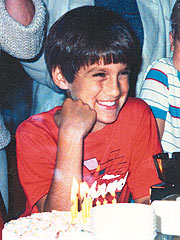 How will you be able to tell?
By being very observant and using my instincts.
Have you ever been in love?
Yes. I've been in love two or three times. Maybe once I was in love with love.
Ever had your heart broken?
Of course my heart's been broken, and their hearts have been broken. But I was very sensible about each relationship I was in. It carried over into a good solid friendship afterward. I'm the guy you dated that you're still friends with. There are no grudges.
What's gone wrong?
Career had a lot to do with 80 percent of my breakups. It's very tough to date a struggling musician. The idea of it is enticing and fun and mysterious. But the reality is long hours and hard work. I have a lot of respect for the women I've dated.
How do you deal with heartache?
I write. Write a great love song. Sometimes I wonder if my own relationships have not been my own yearning for the great masterpiece.
Name a song you've written for a girlfriend.
"The Fall." It was about a bad breakup. I guess I was young and too immature to really understand the situation. I was p----- . So I wrote. [Sample lyrics: "Feelings will pass and soon have to go/ the colder the heart, the harder the wind blow/ although you're trying to make your own throughway/ you turn your back on love with the games that people play"]