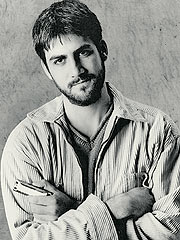 Do you usually write when you're angry?
Sometimes. Sometimes I write when I'm happy. I'll tell you the easiest time to write: when you're lonely.
Are you often lonely?
Interestingly enough, I've led a pretty lonely life.
So the fringe benefit of being lonely is good writing?
Yeah. The muses visit when I'm lonely.
But you've never had a problem attracting women. That's always been easy for you.
Yeah, it seemed like it. You know what, though? I'm pretty humble.
Are you a romantic?
I don't know. I'm sweet.
What do you do to show your sweet side?
I'm very thoughtful. Maybe sweeping her driveway or buying a present. Not flowers; I think flowers are too cliché. If I was shopping with someone and she fell in love with a music box, I might buy that. Once I bought an Ann Taylor dress that I saw for somebody. I saw her drool over it, so I decided what the heck, I'd buy it for her.
What's the greatest length you've ever gone to for a girl you liked?
I take care of the people I'm around. When they're sick, I take care of them. Take them to the doctor. Whatever they want, I take care of it.
Have you had any dating disasters?
You know, I really haven't. If I'm going to ask someone out on a date, I always make sure that things are comfortable so dating disasters don't happen.
Any blind dates?
A couple. Luckily I was with some friends and everything was cool.
What about dating online?
I've surfed the Web and the whole dating connection. I find that pretty fascinating, but no real leads.