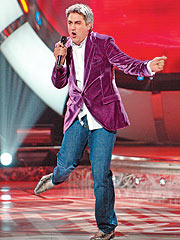 Are you more aggressive or passive when it comes to women?
Passive. Very much so. Passive.
What did you learn about relationships from playing in so many bars?
It's not really good to mix red wine and a very intimate conversation.
What have you seen that's worked?
The best flirting technique would be not to flirt at all and just let it happen.
Have you come close to marriage?
No.
Do you want to get married?
It's a whole lot easier to think about now. I had to deal with being somewhat of an outcast because it's not socially acceptable to be a struggling musician. There have been times where I've felt sorry for the person I was dating. I felt she deserved better.
Do you want children?
I want a little girl. I do have a name picked out.
What is it?
I won't tell.
Why a girl?
Because I have the band. I have my brother. I'm surrounded by all guys.