A tearful Britney Spears opened up to Matt Lauer on Thursday's
Today
show as she defended herself as a mother, asked to be left alone by paparazzi and suggested she may have to start her own magazine to counter reports about her marriage.
Speaking to Spears, 24, in her home for the taped interview, Lauer flashed a series of tabloids featuring cover stories about the singer and her supposedly embattled marriage to Kevin Federline, 28.
"You know what? I need to create my own magazine," said Spears, although she admitted the tabloids are very good at the job they do. But, she insisted, "I need to come up with my own and say the real deal."
Shown a cover describing 28-year-old U.S. Naval Academy graduate
Perry Taylor
as the new man in her life, Spears said, "Oh, no. That's my security guard."
So, Lauer asked, is Federline still living at home with Spears?
"Oh, definitely, working very hard," she said.
But is he living on the main floor – and not in the basement, as one tabloid reported?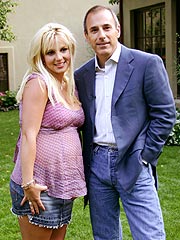 "Yes, of course," said Spears, who is pregnant with her second child with Federline. "He helps me. He has to. I'm an emotional wreck right now. Not in a bad way – just, you know, I'll start laughing hysterically, and then I'll just start crying. It's my hormones, so it's nice to have my husband there to keep me company."
As for the now-notorious photograph of her driving with 9-month-old son Sean Preston on her lap, Spears, who grew up in Louisiana, said she was only in the car for about five minutes, and that the practice is something of a tradition. "I did it with my dad. ... We're country."
Still, Lauer pressed, the picture caused speculation that Spears is a bad mother. "That's America for you," she said with a shrug. "It makes you very strong."
Other recent press reports have hit her hard, however. "Oh, I've wept, yeah," she said. "I've definitely wept, with the world – how judgmental they are. But I know what kind of mom I am."
The real tears flowed when Lauer asked Spears what she would want to say to the paparazzi.
At times covering her face with her hands, she replied, "I would just say, 'You have babies at home, and you have a wife, and if you don't, you have to realize that we're people and we just need privacy and we need our respect and these are just things you have to have as a human being.' "
The conclusion of Lauer's interview will appear Thursday night on
Dateline NBC.