Since Sir Paul McCartney and Heather Mills McCartney announced their split last month, Lady McCartney's image has endured the kind of public relations smackdown usually reserved for wayward members of the royal family.
First came the publication in the British tabloids of nude photographs taken 20 years ago of the former model that appeared in various sex guides. Then a June 11 story in the
News of the World
tabloid alleged that Mills McCartney once worked as a prostitute – a claim she quickly denied in a statement from her lawyer, who threatened legal action and called the allegations "untrue and highly defamatory."
Although she's put on a brave face in public, friends say Mills McCartney, 38, is privately falling to pieces. "She is sobbing constantly," says one. "She is in a terrible state. She is barely able to speak. She feels betrayed and let down."
Her estranged husband is feeling the sting as well. "Paul is deeply shocked by the claims that have been appearing," says a close pal. "It would be right to describe him as being devastated."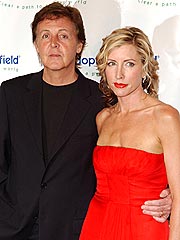 Another source says that although rumors about Mills McCartney had churned within British media circles for years, the former Beatle had been in the dark regarding the extent of many of them.
"I think they were going into a romance and not a business deal, so (the veracity of the rumors) wasn't looked into by his people," says the source. "There was simply no idea it was going to unravel like this." As the tabloids continue to spin, "it is like some sort of bad drug trip for both of them."
Now it appears at least one publisher intends to cash in on Mills McCartney's notoriety. A spokesperson for German company Orion – which in 1998 published
The Joys of Love,
a 112-page photo book featuring Mills McCartney and a male model – says the company plans to re-issue the sex manual.
"We are hoping to publish the book again," Orion's Ann-Kathrin Döbbeke tells PEOPLE. "In about one month it should be published, but the final decision will be made in one week. It will be published in Germany and then distributed by our wholesalers in Britain and America. There will not be a problem with translating it as there is only a small amount of introductory text and the rest of the book is just photos."
For more on this story, pick up a copy of PEOPLE on newsstands now.