• "This
is
my child because I've been working so hard on it. Having twins! It's so exciting. Oh my God, I want a steak like crazy right now!"
–
Christina Aguilera,
equating her two-disc set,
Back to Basics
(due Aug. 15), with having babies, to
Entertainment Weekly
• "Everyone said, 'You can't go on a ride in that dress,' and I said, 'I definitely can.' "
–
Keira Knightley,
about to ride Splash Mountain in a white Chanel gown, at the Disneyland premiere of
Pirates of the Caribbean: Dead Man's Chest
• "We had the chance to tell each other we loved one another before he passed away."
–
Tori Spelling,
on reconciling with her TV mogul dad, Aaron Spelling, before his death June 23
• "You can feel it when you walk into an audition ... I knew that if I was having an off day there would have been people sitting there whispering, 'Goldie Hawn's daughter is horrible. She should really choose another career.' "
–
Kate Hudson,
on being compared to her actress mom in Hollywood, to
Vogue
• "He doesn't really fit the demographic. So I could really care less. Look at me, and look at where he is – sorry!"
–
Hilary Duff,
responding to
New York Times
critic Stephen Holden's poor reviews of her movies, to
Elle
• "I spend most of my day holed up in my hotel room, in silence, boring myself to death."
–
Fiona Apple,
on suffering from social anxiety while on tour, to
Time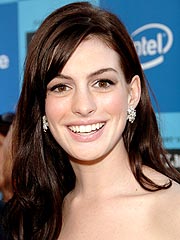 • "Well, of course I dreamed, but you also dream about being president."
–
Anne Hathaway,
on whether she had aspired to work with acting legend Meryl Streep, her costar in
The Devil Wears Prada
• "It's very hard to be extra witty around a sexually overwhelming, beautiful young woman who is wittier than you are."
–
Woody Allen,
on leading lady Scarlett Johansson, who stars in his upcoming comedy
Scoop,
to
New York
magazine
• "It's our shtick."
–
Scarlett Johansson,
describing her relationship with Allen, to
New York