The velvet ropes were down Friday as Priscilla and Lisa Marie Presley gave a private "family" tour of Graceland to President and Mrs. Bush and Japanese Prime Minister Junichiro Koizumi.
Koizumi, a self-described "big-time" Elvis fan, charmed the King's ex-wife and daughter with gifts of the compilation CD he'd made of his favorite Elvis hits – complete with computer-generated cover photos of him with Elvis.
"I'm really surprised by how they allowed us to fabricate those pictures," Koizumi told his hostesses. Replied Priscilla, famously protective of the Elvis copyright: "So are we!"
Touring the mansion's Jungle Room with Bush, Koizumi was as playful with Elvis artifacts as he was with the King's trademarked image. Playing a little air guitar while crooning, Elvis-style, the chorus of "Battle Hymn of the Republic," the prime minister donned a pair of Elvis' sunglasses that had earlier been laid out on the coffee table by a white-gloved archivist.
The visit to Elvis's Memphis mansion was a first for both the President and Mrs. Bush – and something of a birthday road trip for Bush, who turns 60 on Thursday.
"This just proves you're never too old to go to Graceland," the President said while posing next to one of Elvis' pink Cadillacs, which had been moved to Graceland's front lawn early Friday morning for the Presidential photo-op.
The Presidential tour marked the first time in Graceland's 24 years as a tourist attraction that it closed for special guests.
On the flight to Memphis, Air Force One offered one of the King's favorite dishes, fried peanut butter and banana sandwiches, for the occasion. Said one White House aide, "It was good. You could barely taste it. It was fried."
The President and Mrs. Bush recalled for Priscilla that the last time they saw Elvis was at the 1974 Houston livestock and rodeo show. Koizumi, on the other hand, lamented that Elvis was the only major rock n' roll star never to perform in Japan.
"But he wanted to," said Lisa Marie. "That was just his bad manager."
Elvis's daughter said she "inherited from my dad" his interest in Japan – she even went to Kyoto to get married earlier this year. "I've been several times," she said, and was rewarded with a hearty embrace from Koizumi as he sang the opening lines to Elvis's "I Want You, I Need You, I Love You": "Hold me close, hold me tight."
The prime minister told PEOPLE of the trip, "It was thrilling. It was exciting. This was a dream come true. When I think of the United States, it's Elvis."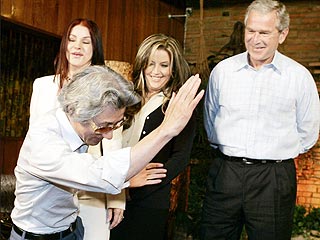 LARRY DOWNING / REUTERS / Landov