• "When you hear the phone ring today, you know it's good."
–
Jeremy Piven,
on getting the call about his Emmy nomination for
Entourage,
to
Access Hollywood
• "This is the biggest thing that's ever happened to me."
–
Jamie Pressly,
on getting her first Emmy nomination for
My Name Is Earl,
to
Access Hollywood
• "I'm not saying there aren't people in the film industry that suffer from it, because I am sure that there are. But I am quite sure I don't have it."
–
Keira Knightley,
denying she has an eating disorder
• "I can always pump gas or sell pens again. And if I become that weird guy who does art films again, that's okay with me."
–
Johnny Depp,
on not worrying about the box-office success of his films, to the U.K.'s
Independent
• "The moment my doctors told me, I went silent. We all fell to pieces, but I was saying, 'No, I'm getting on a plane,' and they said, 'No, you're not, sit down.' "
–
Kylie Minogue,
on wanting to continue touring last year after learning she had breast cancer
• "I would say, next to my own wedding, without a doubt the best wedding I've ever been to."
–
Hugh Jackman,
on attending fellow Aussie Nicole Kidman's nuptials, to
Entertainment Tonight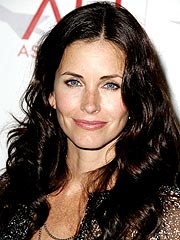 Steve Granitz / WireImage
• "It's hard getting older; it's hard not to be the young one anymore, to see your face change, your skin change, and not judge it."
–
Courteney Cox,
on plastic surgery, to
Marie Claire
• "My older brother Andrew blames Luke and me for the rapid disintegration of his first marriage. We were always at his house."
–
Owen Wilson,
on relating to his role as the houseguest who doesn't know when to leave in
You, Me and Dupree,
to
Time
• "I don't know if it's necessarily something that I would take my 5-year-old kid to see. It might scar him for life. It's about children. Weird kids might like it."
–
Paul Giamatti,
on his spooky new M. Night Shyamalan film
Lady in the Water