Katharine & Nick
American Idol
runner-up
Katharine McPhee
has been getting a little extra TLC from her boyfriend, actor
Nick Cokas.
The 22-year-old singer, who has missed the first American Idols Live tour dates because of bronchitis and laryngitis, stopped by Cold Stone Creamery in Studio City with her beau on Thursday for a cool treat. Cokas, 41, ever the gentlemen, held the door open for his recovering sweetie as they entered the ice cream store, then held her purse as she snapped a photo with a fan.
Cokas, who was acting as McPhee's caretaker and interpreter, told us that under the doctor's orders, the singer will miss another few days of the tour – but hopes to join her fellow Idols by the time they reach Rochester, N.Y., on July 21.
In the meantime, McPhee will be treated like a princess by her beau.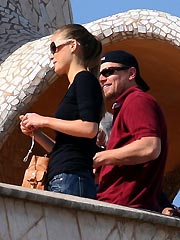 Leo & Bar
There's no blending in with the crowd when you're
Leonardo DiCaprio
and
Bar Refaeli,
his Victoria's Secret model girlfriend. But the twosome, who have been dating since early this year, tried their best to lay low during a recent romantic getaway to Portland, Maine's Old Port district.
DiCaprio, wearing khaki cut-off cargo shorts and a T-shirt, baseball cap and sunglasses, popped into a gift shop near the harbor but dashed out once customers recognized him as the
Titanic
heartthrob. "People were looking at him," observer Alexis Mantis told us. "He looked like a normal tourist, but everyone was buzzing about it all day."
DiCaprio, 31, and Bar, 21, later ate lunch and dinner at the Portland Lobster Co., where this time it was her good looks that gave them away. "The second I saw her I was like, 'What the hell? Who is this?' " Ben Roscillo, a manager at the eatery, told us. "They were talking quietly. If I hadn't known, they seemed like they were on a first date. They were trying to keep it low-key."
No one bothered the lovebirds during their meal, but several fans were in hot pursuit of DiCaprio once he got up to leave. "They chased him right out of here," said Roscillo. "He was on his cell phone and walking really fast."
• By
Victoria Brett
and
Monica Rizzo