• "We really had fun together. I mean, she's not going to be having our child in Namibia, but we really enjoyed working with each other."
–
Luke Wilson,
on his relationship with
My Super Ex-Girlfriend
costar Uma Thurman, to David Letterman
• "I am very perceptive about people, but then if I'm attracted to them, I'm not always looking clearly. I'm working on a decoding system – especially for men."
–
Uma Thurman,
to
Parade
magazine
• "Man, if I can get a burp out of that little thing I feel such a sense of accomplishment."
–
Brad Pitt,
on baby daughter Shiloh, on the
Today
show
• "Occasionally, if I like the person, I'll say, 'Please call me Pee-wee'."
–
Paul Reubens,
on how fans sometimes refer to him as his alter ego, "Mr. Herman," to Conan O'Brien
• "It works. It's better than yelling or hitting your kid."
–
Rosario Dawson,
on how her mom used to lick her face in public to punish her as a child, to Jay Leno
• "Were you a child that often required a lot of licking?"
–
Jay Leno
to Dawson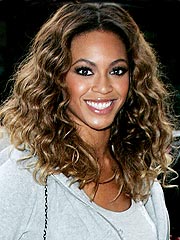 James Devaney / WireImage
• "If I have any suggestions he respects it. If he has any suggestions, I respect it. It's just, I don't know, easy. And fun."
–
Beyoncé Knowles,
in a rare comment about her relationship with Jay-Z, to
Giant
magazine
• "Single guys still move in packs. When you get married, you lose your pack mentality. And hanging out with a group of guys starts to feel a little weird."
–
The Groomsmen
writer-director
Ed Burns,
to
UrbanDaddy
• "From the front, you can't pick it up. But when I turn around it's like I'm wearing a skin yarmulke."
–
Kevin Smith
, on his balding head, to
Time