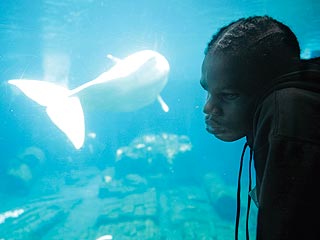 Ben plays basketball with his pals, rides horses at camp and dances with girls at school events. He excels at PlayStation games by memorizing the sounds that characters and movements make. "People ask me if I'm lonely," he says. "I'm not, because someone's always around or I've got my cell phone and I'm always talking to friends. Being blind is not that different from not being blind."
Ben was just 2 years old when doctors discovered his retinal cancer. Ben's first Braille teacher, Barbara Haase, believes the boy's ability to see during his first two years helped him develop "a sort of map of the physical world," she says. Growing up, Ben got help from his brothers Joe, now 23, and Derius, 19, and sister Tiffany, 18. (His father, Stephen, died in 2002.) "They taught him how to find the seams on his clothes so he puts them on right side out, stuff like that," says Aquanetta. "But they didn't overdo it."
Aquanetta sent Ben to mainstream schools, where professionals on staff gave him individual attention and taught him to overlook taunts from classmates who waved their hands in his face or snatched food off his tray. "The hardest thing for me to accept is rejection," says Ben, who starts ninth grade in the fall. "I can tell when someone rejects me in some way." At home his mother let him play with no restrictions. "If he fell, she would just say, 'Oh, he fell,' and he'd get up and try again," says his kindergarten teacher Ann Akiyama. "I've seen him run full speed into the edge of a big brick column and get back up. He was fearless."
Ben learned how to read Braille and walk with a cane, but when he was 3, he also began teaching himself echolocation, something he picked up by tossing objects and making clicking sounds to find them. His sense of hearing, teachers noticed, was exceptional. "One time a CD fell off his desk and I was reaching for it when he said, 'Nah, I got it,'" says Kalli Carvalho, his language arts instructor. "He went right to it. Didn't feel around. He just knew where it was because he heard where it hit." Haase took walks with Ben to help him practice locating objects. "I said, 'Okay, my car is the third car parked down the street. Tell me when we get there,' " she says. "As we pass the first vehicle, he says, 'There's the first car. Actually, a truck.' And it was a pickup. He could tell the difference."