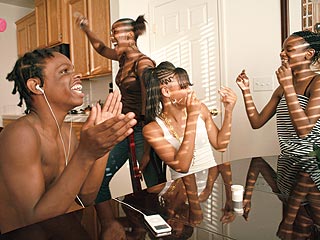 Ben was 6 when he decided he wasn't going to use a cane – he calls it a stick – to get around. "You go to school and you're the only one with a stick, what's the first thing some kid's going to do? Break it in two," he says. "And then where are you? You're helpless." At times he was even able to come to the aid of people with normal sight. "I remember taking him to the park with my son, sister and my nieces, and it got dark," says Akiyama. "But Ben had figured out the park's layout, and he led the way out. He was in his element."
Still, Ben's zone of maximum comfort remains his family's three-bedroom stucco home – where he lives with his mom and brother Isaiah, 11 – and the quiet streets around it. Some professionals who work with Ben worry that his near-complete reliance on echolocation could hurt him when he finds himself in unfamiliar settings. Haase wishes he would use a cane to help him gauge, for instance, the depth of a hole. But Ben is sticking to his guns. "He's a rebellious traveler," says Kish, who despite teaching echolocation around the world still occasionally uses a cane. "Ben puts himself at risk."
Others believe Ben's remarkable abilities will make it easier for him to face new challenges and conquer new surroundings. "The world is not going to change for these kids; they need to adapt to it," says Ben's eye doctor James Ruben, a Kaiser Permanente ophthalmologist. "His mother understood that plenty of sighted people have miserable lives and plenty of unsighted people have happy lives."
Last month Ben widened his horizons even further. "The thing I'm most scared of is water," he says. "But if I had eyes, it's what I'd most like to see." So on June 25 he took a trip to San Diego's SeaWorld Adventure Park to swim with dolphins and hear how they use echolocation. Waist-deep in a saltwater pool, he immersed one ear as Sandy, a bottle-nosed dolphin, swam toward him. "Man," he said, "she clicks fast!" Ben spent 45 minutes playing with Sandy, touching her teeth and stroking her dorsal fin. Bob McMains, supervisor of SeaWorld's dolphin program, says that in his 23 years there, few people have listened so intently to the sounds the dolphins make. "He's got a gift with dolphins; he's truly unique," says McMains. "I told him, once he's 18 he's got a job here anytime."
McMains can get in line. Ben's world may be dark, but the most amazing surprises are just a click away. He might become a math teacher or a pro skateboarder – or, as his mother believes, just about anything. And wouldn't that make for a truly amazing Ben Underwood story? "I tell people I'm not blind," he says. "I just can't see."
• By Alex Tresniowski. Ron Arias in Sacramento