•
Jennifer Lopez,
shopping with BFF
Leah Remini
and husband
Marc Anthony'
s daughter Arianna at Fred Segal in Los Angeles. The gal pals bought blouses and jeans and feasted on pasta at the shopping store's Mauro's Café. Later that night, Lopez played adoring fan at Anthony's show at the Verizon Amphitheater in Irvine. "She was beaming. She kept her eyes on him," says an observer.
•
Lindsay Lohan,
holding hands with beau
Harry Morton
at the opening of the
Waist Down Skirts by Miuccia Prada
exhibit at the design house's Beverly Hills store. Also on hand at the star-studded event:
Eva Mendes, Nicole Richie, Joaquin Phoenix, Paris Hilton, Rebecca Romijn
and
Kristen Bell
.
•
Christina Aguilera,
giving a private performance at Andrita Studios in Los Angeles. The singer sang four songs – including "Ain't No Other Man" – off her upcoming double album
Back to Basics.
During her set, she gave a shout-out to husband Jordan Bratman and her mom. The event was recorded for an MTV special.
•
Mandy Moore,
shopping at the Whole Foods store in West Hollywood. On her to-buy list: grapefruits, strawberries, vegetarian turkey, cream cheese and iced tea.
•
Pink,
riding her bike around Washington, D.C. – but the singer got lost en route to the Results Gym and missed her appointment. As an apology to Results owner Doug Jefferies, she offered him backstage passes to her concert. "She is the sweetest," he told us.
•
Sophia Bush,
skipping down the sidewalk
Wizard of Oz
-style with
Frankie Muniz,
after dining with him and a male companion at West Hollywood eatery Café Med.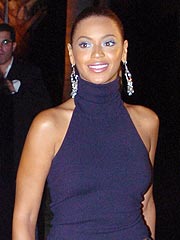 •
Beyoncé
, having a girls' night out with six friends at New York City hot spot Lotus. The group did shots and drank wine in their VIP booth. When DJ Reflex began spinning her song "Déjà Vu," the singer – wearing a halter top and jeans – danced in her seat and watched the crowd's reaction to her tune.
•
Nicole Richie,
partying at the Viper Room in West Hollywood. Also there to check out celeb deejay Samantha Ronson's new band:
Mary-Kate Olsen, Cisco Adler, DJ AM
and – yes, you're reading this right –
Farrah Fawcett.
• By SHANNON BRADLEY, MAUREEN HARRINGTON, EMILY HOCHBERG, AMY ELISA KEITH, MARISA LAUDADIO, KIMBERLY LANSING and BRENDA RODRIGUEZ