• "People think I sleep with everyone, but I'm not like that. I like kissing, but that's all I do. I'm not having sex for a year, I've decided."
–
Paris Hilton,
who also said she's had sex with only two people, to British
GQ
• "It's not about him at all."
–
Jessica Simpson,
denying that her album
A Public Affair
is about ex-husband Nick Lachey, to MTV
• "I am not owning up to this."
–
Project Runway
contestant
Keith Michael,
on being kicked off the show for possessing pattern books, to bravotv.com
• "Eventually Rachel took off my shirt, we're kissing some more, I'm on top of her. Finally I hear Darren going 'Take his pants off!' "
–
Hugh Jackman,
on shooting a love scene with Rachel Weisz for
The Fountain
under the direction of Weisz's fiancé, Darren Aronofsky
More on Your Favorite Stars
• "I'm an organizational freak. My label maker is my best friend. It's to the point where sometimes it annoys even me."
–
Christina Aguilera,
on being a perfectionist, to
USA Weekend
• "I know it's my job not to talk too much about this baby."
–
Maggie Gyllenhaal,
requesting that the press refrain from asking her questions about her pregnancy while she promotes
World Trade Center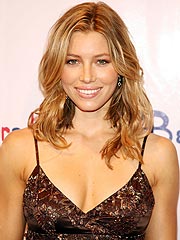 • "Keira Knightley may be dying to get out of corsets, but I'm dying to get into one."
–
The Illusionist'
s
Jessica Biel,
on getting passed up for period dramas for looking too "modern," to
Time
• "A lot of times, people were laughing and I'm like, 'I don't get it.' Sometimes when there's bad language in a movie, my mom covers my ears.''
–
Abigail Breslin,
10, on starring in her first R-rated movie,
Little Miss Sunshine,
to
Entertainment Weekly
• "On
The View,
Barbara Walters said that because of his anti-Semitic remarks, she will never see a Mel Gibson movie again. Walters said, 'As far as I'm concerned, he's Star Jones to me.'"
–
Conan O'Brien