What was
Lost'
s Naveen Andrews – who's dated Barbara Hershey since 1998 – doing on Manhattan Beach on Saturday with a mystery blonde?
"I have no comment," his rep tells PEOPLE in its new issue. "Naveen and Barbara are still together."
In fact, during a PEOPLE interview just hours before the beach romp, Andrews, 37 – who plays former Iraqi soldier Sayid on the hit ABC drama – insisted all was well. "(My private life) seems to be dysfunctional," he said, "(but) what's actually going on. … is good and pure."
In January, Andrews admitted he'd
fathered a baby boy
with another woman during a brief 2005 split from Hershey, 58. "I have every intention of assuming appropriate responsibility for the child," he said in a statement at the time.
The British-born actor also said that he and Hershey had worked things out and remained committed to their relationship.
Over the years, Andrews's love life has taken some movie-worthy twists, including a romance with a math teacher at his London high school that began in his late teens.
Though Geraldine Feakins was 15 years older, "I must stress that we didn't begin living together until I was over 18," Andrews told PEOPLE last year, refuting tabloid reports that had them moving in together when he was 16.
That six-year union produced a son, Jaisal, now 13 and living with his mother. "We see each other every school holiday," Andrews said.
At age 29, Andrews met Hershey, who was 50 at the time (and the mother of a son, Tom, now 32, from her relationship with
Kung Fu
star David Carradine in the '70s) on the set of the obscure 1999 indie film
Drowning on Dry Land.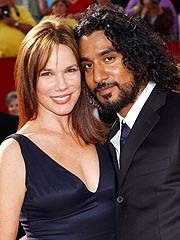 "I've always liked women who are older," Andrews told PEOPLE. "They seem to know who they are, and they've lived. They've got soul, and that's very attractive."
However, he admitted to some strains in his relationship with Hershey, especially with him spending much of his time on Oahu, where
Lost
is filmed. "It requires a constant effort to make sure you see each other," he said. "Our limit is usually three weeks apart."
When the couple get together in Hawaii or L.A., their permanent home, "we basically shut down, and it's just us," Andrews said. "We don't really go out on the (party) scene at all. We go to bookshops."