Teri Hatcher
had an adrenaline-filled summer break. Before heading back to Wisteria Lane for the third season of
Desperate Housewives,
the actress jetted north to Alaska with 8-year-old daughter Emerson. "We went hiking, we both jumped in the 50-degree water. We saw a moose. She loved it," Hatcher told us at a party for the launch of the
Desperate Housewives: The Complete Second Season: Extra Juicy Edition
DVD in Universal City, Calif. She also got in some solo sea-kayaking. "My arms were so sore the next day – I thought they were going to fall off!"
Hatcher – who's narrating a documentary on humpback whales – got a chance to see the gentle giants up close. "We took a boat for about five days all up and around and a couple of different sea planes to different locations," she says. "I don't even know where we were. It was so peaceful."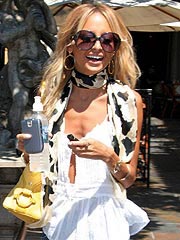 Nicole: BFFs Present & Past
Though she's used to being the center of attention,
Nicole Richie
made sure deejay pal
Samantha Ronson
wore the birthday-girl crown on her big day. During a shopping trip with Ronson to Beverly Hills store Tracey Ross, a flock of tourists was waiting for the
Simple Life
star outside. But when she emerged from the boutique, Richie told the wide-eyed group to "gather around and sing 'Happy Birthday' to my friend Samantha," an onlooker tells us. While the 20-plus fans sang, Richie
filmed the scene
with her digital camera.
Later, the pals hit West Hollywood hot spot Hyde Lounge, where Richie,
Lindsay Lohan, Harry Morton
and
Mary-Kate
and
Ashley Olsen
celebrated with a cookies and Dom Perignon. "She was the queen bee," says an onlooker. "Everyone had a very good time."
Rewind to a couple of nights earlier and the scene wasn't so chummy: Richie and former BFF
Paris Hilton
both showed up at Hyde – and proceeded to ignore each other. Hilton hung out with sister
Nicky
while Richie grooved to the deejay on the opposite end of the bar.
By MARISA LAUDADIO and MONICA RIZZO