• "That's what people really want to see. They want to see a host responding to Doris Roberts's dress catching fire. And I have a plan for that. I have a torch."
–
Conan O'Brien,
on coming back to host this year's Emmys since his last turn at the podium in 2002
• "It's tough when people are celebrated or become famous before they grow into themselves as an actor and as a human being...I'm just incredibly lucky to be so unpopular and uninteresting for so long."
–
Jeremy Piven,
on getting a supporting actor nod for
Entourage
• "I would be lying to you if I didn't say I am insanely happy. I'm surprised this has happened as quickly as it has. I'm very grateful. My skin is tingling all over right now."
– Best actress nominee
Julia Louis-Dreyfus,
on getting recognition for her new show,
The New Adventures of Old Christine
• "I think the best part will be getting to see everyone in their Emmy outfits. I can promise you this – no Pam hair."
–
Jenna Fischer,
on not attending the awards as her alter ego on
The Office,
which is up for five Emmys (including comedy series), to PEOPLE.com
• "She gave me a big hug and said, 'Honey, I get to go shopping!' So she had her priorities in line."
–
Law & Order: SVU'
s
Chris Meloni,
on his wife's reaction to his first Emmy acting nod, to Regis Philbin
• "It's a double-edged sword all the way along this whole process because, 'Oh fantastic, I've been nominated. Oh (expletive), what am I going to wear?' "
– Dame
Helen Mirren,
on getting an acting nod for the miniseries
Elizabeth I,
to the
Associated Press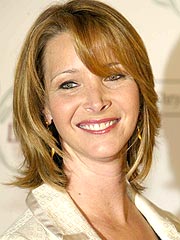 • "I usually have some nervous ritual where I have a shot of something ... not an injection of something, but a shot, a drink."
–
Lisa Kudrow,
up for
The Comeback,
on her pre-awards tradition, to the
Associated Press
• "Being an Emmy virgin, I just wanted this special experience to be really gentle and loving."
–
Will Arnett,
up for best supporting actor for
Arrested Development,
to PEOPLE.com