• "I just want to start by saying ... awkward? A little bit."
–
Nick Lachey,
addressing the uncomfortable situation of being at the Teen Choice Awards, hosted by ex Jessica Simpson
• "Take that, Jessica!"
– A fan's response to Lachey's win for Choice love song for his single "What's Left of Me"
• "Mischa, there's something that I've wanted to do since seeing you on
The O.C.
years ago. Here's a sandwich. Yes. Enjoy it. We're not going to kill you off on
this
show."
– Teen Choice Awards cohost
Dane Cook,
speaking to Barton in the audience
– "The person I feel saddest for is Britney."
•
Paula Abdul,
after watching Kevin Federline perform his single "Lose Control" at the awards
• "If she's wearing black, you just wear black. Matching is not her job. It's yours. You're the purse."
–
Ashton Kutcher,
on how being a husband sometimes means being a fashion accessory, to
Details
magazine
• "In Germany – and this started with a newspaper headline – they call us 'The Patchwork Family.' "
–
Heidi Klum,
questioning whether she should be flattered or insulted by the description of her brood with husband Seal, to
Life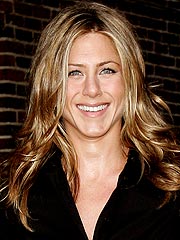 James Devaney / WireImage
• "It will be hard 4/me 2 not b the boss/it is already/and we have only just begun."
–
Rosie O'Donnell,
on sharing hosting duties as the newest member of the morning chatfest
The View
starting Sept. 5, on her Web site Rosie.com
• "The American people need to believe (the news). Please. Get it together. So that's all."
–
Jennifer Aniston,
refuting widely publicized reports that she and Vince Vaughn are engaged, to PEOPLE
• "My No. 1 priority is my children. (She) didn't have that same feeling."
–
Travis Barker,
on why he dissed estranged wife Shanna Moakler (from whom he recently filed for divorce) on his MySpace.com page, to PEOPLE
• "(His) airing of our dirty laundry in the media is not conducive to the well-being of my children, and I want no part of it."
–
Shanna Moakler,
firing back about Barker's allegations, to PEOPLE
• "All my friends are gay guys. They're always like, 'You're such a drag queen.' "
– R&B singer
Kelis,
on being 5'10", wearing tight clothes and having the ability to sing, to
New York
magazine
• "I, like, cry, when I listen to it, it's so good."
–
Paris Hilton,
on listening to her own self-titled album, to
Blender