As they approach their first wedding anniversary next month, Ashton Kutcher and Demi Moore are enjoying a relationship that has "the same energy as before but more depth," he says.
In the upcoming issue of
Parade
magazine, Kutcher, 28, says of life with his 43-year-old wife, "We have frustrations, like every relationship. It's just the way we deal with them."
Having watched his mother and stepfather argue and then "not talk for a day," Kutcher says, "Why go through that? Demi told me once, 'When you're right, that's all you get to be.' And for some reason, that made sense to me."
Kutcher claims their marriage is friction-free. "We had one argument in the first three months of dating, and since then we haven't had any," he says. "We deal with issues before they become arguments.
"I've never tried to change my wife, and she has never tried to change me," he continues. "It does bad things when you turn the other person into the ball and chain in your life."
Kutcher also prides himself on his amiable relationship with Moore's ex-husband, Bruce Willis: "In order for it all to work, I have to have a good relationship with Bruce. He's not 'the other guy.' He's not in competition. We have our own friendship. I'm not saying it's not hard, man."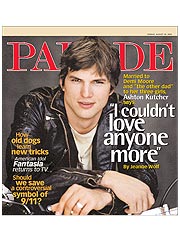 Moore has three daughters with Willis – Rumer, 18, Scout, 15, and Tallulah, 12, whom Kutcher considers his kids as well. "There is not a human being I could love more than those girls and their mom," he says. "If I had a daughter that was of my blood, I wouldn't love that child any more."
And he doesn't rule out having a child with Moore. "I feel like I have three kids," he says, "and we'll see whether we're given another child."