• Newlyweds
Avril Lavigne
and
Deryck Whibley,
dining with MTV star
Ashley Parker Angel
at Wolfgang Puck's restaurant Cut at the Regent Beverly Wilshire hotel. Quite the gentleman, Whibley carried his wife's bag and helped her into her seat. Then during their meal, he caressed her back. "They're clearly very much in love. He couldn't keep his hands off her," says a fellow diner.
•
Chad Michael Murray
and fiancée
Kenzie Dalton,
scanning the Backstage Creations gift lounge at the Teen Choice Awards. Meanwhile, Murray's ex,
Sophia Bush,
was nearby trying on sunglasses, and the trio narrowly avoided an uncomfortable run-in. At one point, "they had their backs literally turned to each other," says an onlooker. But nobody "turned around or acknowledged the situation," choosing instead to focus on the iPods and other swag up for grabs.
•
Matt Damon
and wife
Luciana,
hanging out at the baggage carousel with their daughters at the Los Angeles International Airport after a flight from New York. Damon handed 2-month-old Isabella to his wife and then started playing with his baby girl. "He was making cooing noises and smiling big. It was so cute," an onlooker says. "The happier she got, the happier he got."
•
Debbie Gibson
and
Lorenzo Lamas,
cuddling at an afterparty for the L.A. production of
Dirty Rotten Scoundrels
at West Hollywood hot spot Memphis. The duo watched a scene from the classic film
A Streetcar Named Desire
being projected on a wall.  "They were very affectionate," says an onlooker.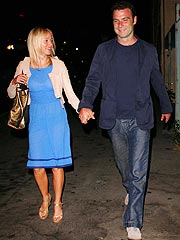 •
Drew Barrymore
and
Fabrizio Moretti,
dining at West Hollywood eatery Il Sole. A rib-eye steak sat on the table but the couple seemed more interested in each other than the food before them. "They were kissing," says a fellow diner. "He was making her laugh."
•
Naomi Watts
and
Liev Schreiber,
attending a screening of
Factotum
at West Hollywood art house theater Laemmle Sunset 5. "They looked cute," says a moviegoer. "They took turns sharing a single bottle of water and kissed a lot."
• By BRYAN ALEXANDER, MARISA LAUDADIO and BRENDA RODRIGUEZ