• "(I) got the call while we were rehearsing and I pissed in my pants! I was excited right off the bat. It's the only show that I really, really watch."
–
Kevin Federline
about making his acting debut on
CSI: Crime Scene Investigation,
to PEOPLE
• "I don't go hunting for celebrity babies. I have 116 other things to do, thank you, Billy. You need another job. I mean, you have potential as a human being. This may not be right for you. Seriously, can you focus on other things?"
–
Jeremy Piven,
slamming Emmys pre-show host Billy Bush for asking if he has ever seen Jennifer Garner's daughter or "baby Suri"
• "My great triumph is not falling ass over tit as I came up those stairs."
–
Helen Mirren,
accepting her Emmy for the HBO miniseries
Elizabeth I
• "Wolverine I could have lost to ... he has claws for hands."
–
Stephen Colbert,
complaining that he lost the best variety performer Emmy, for which Hugh Jackman was also nominated, to Barry "The Copacabana" Manilow
• "I think when people don't know it's me, they won't judge it. But if they know it's me, then they'll be like, 'Ugh.' They won't even dance."
–
Paris Hilton,
on reactions to her debut album
Paris,
to
Blender
magazine
• "There's no such thing as a retake. 'Cut! Curtain!' Nah, you're still there, and they're still watching you."
–
Usher,
on the challenge of starring in Broadway's
Chicago,
to MTV.com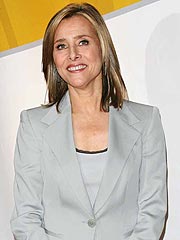 • "I was kind of on a train to becoming this prime-time TV actor, and I needed that train to ... crash."
–
Clive Owen
on why he gave up a role on a popular British television show to get into films, to
GQ
• "I want to work with Pharrell, Timbaland, Snoop, Kanye, Eminem and just see what happens. It may be a disaster, it could be fantastic, but you don't know until you try."
–
Elton John
on wanting to blend his hit songs with hip-hop beats, to
Rolling Stone
• "It's hard to watch. It sort of became a joke."
–
Meredith Viera
on why she stopped watching
The View
after leaving to join the
Today
show, to
Time