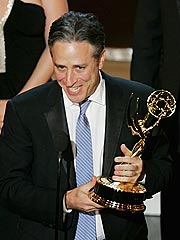 10 p.m.
At Sunday's 58th annual Emmy Awards,
The Daily Show,
for the fourth year in a row, took the prize for outstanding variety, music or comedy show.
Accepting his award, host Jon Stewart, who produces the also-nominated
The Colbert Report,
said, "I think this year you actually made a terrible mistake."
Report
host Stephen Colbert, who was sitting behind Stewart in the audience, planted a big kiss on Stewart when his name was announced.
The Daily Show
also took the writing Emmy.
Monk
star Tony Shalhoub won his third Emmy as lead in a comedy series. "There's been a terrible mistake," he quipped at the podium. "I never win anything."
Pretending to turn serious, he added, "It's gratifying to be chosen from such a distinguished group of losers – actors." He was referring to the other nominees: Steve Carell, for
The Office
; Larry David,
Curb Your Enthusiasm
; Kevin James,
The King of Queens
; and Charlie Sheen,
Two and a Half Men.
Other winners were supporting actor Jeremy Irons, for the HBO miniseries
Elizabeth I,
and lead dramatic actor in a TV movie or miniseries Andre Braugher, for
Thief.
In the comedy categories,
My Name Is Earl
won for both writing and directing. Greg Garcia, picking up his trophy for penning the sitcom's pilot, said in his acceptance speech that he wouldn't thank God, "because You took my hair away, and that wasn't cool."
The Sopranos
took the writing award for dramatic series.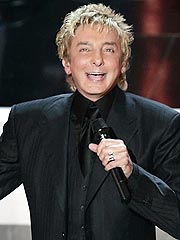 American Idol
judge Simon Cowell, who received a smattering of boos from the crowd, introduced a tribute to Dick Clark and his shows
American Bandstand, The Golden Globes
and
New Year's Rockin' Eve,
among others.
Sitting at a podium, the 76-year-old Clark, who suffered a stroke in December 2004, told the audience in slightly slurred speech that "the Emmy people asked me to walk out and say a few words. My wife joked, 'Walk? He's just begun to walk again.' "
Clark, who received the evening's first standing ovation, emphasized, "I have accomplished my childhood dream, to be in show business." A musical tribute by Barry Manilow followed.
Minutes later, Manilow picked up an Emmy as best musical performer for the PBS special based on his Las Vegas show. He said he was taking the trophy with him to the hospital as a good-luck charm on Monday, when he is scheduled for surgery to repair torn cartilage in both hips.