Sunday's 58th annual Emmy Awards ceremony was a big night for first-time winners. After three nominations, Mariska Hargitay finally won her first Emmy, as leading actress in the dramatic series
Law & Order: Special Victims Unit.
"When I named my son August, I had no idea that the month would end like this!" said the thrilled Hargitay – who, with husband Peter Hermann, welcomed their first child on June 28.
Kiefer Sutherland won his first-ever Emmy – after nine nominations – for best actor in the drama
24.
Clutching his statuette, Sutherland said the win meant he'd be having dinner with his father, actor Donald Sutherland, who was also in the Shrine Auditorium.
He called his six years on
24
– which also was named best dramatic series – "nothing short of exceptional."
The New Adventures of Old Christine
star Julia Louis-Dreyfus took her second Emmy, this time for leading actress in a comedy series. Her first was for her supporting role as Elaine on
Seinfeld.
As the first costar from that seminal sitcom to escape the "
Seinfeld
curse" and have a success with another show, Louis-Dreyfus said, "I'm not somebody who really believes in curses." Then, holding up her Emmy, she said, "But curse this, baby!"
The Office,
starring Steve Carell and based on a British sitcom created by Ricky Gervais, was named best comedy series.
Earlier, the Emmys took a trip down memory lane when Joan Collins, Heather Locklear and
7th Heaven
leading man Stephen Collins kicked off a tribute to prolific producer Aaron Spelling, who died in June.
Melrose Place
star Locklear said that the "warm, generous and loving" Spelling referred to her as his "lucky penny."
Dynasty
diva Collins recalled meeting him when he was a struggling actor who was confident he would one day become a successful producer.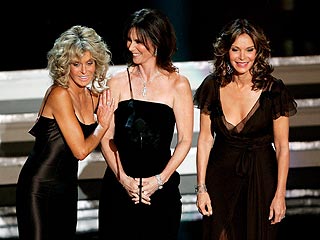 Spelling's
Charlie's Angels
– Kate Jackson, Farrah Fawcett and Jaclyn Smith – all teared up while remembering their starmaker, as his widow, Candy Spelling, wiped away her tears while sitting in the audience next to her son, Randy Spelling.
Daughter Tori Spelling was seated separately with husband Dean McDermott.
When the awards resumed,
The Amazing Race
continued its amazing run as best reality show, winning its fourth Emmy and beating such strong contenders as
American Idol
and
Survivor.
HBO's
The Girl in the Café,
a romantic character drama set against the G8 conference, was named best TV movie. Kelly Macdonald was named best supporting actress for her performance and Richard Curtis was cited for his direction. HBO's
Elizabeth I
was named best miniseries – and its leading lady, Helen Mirren, best actress in a miniseries.
Here's a rundown of the major winners:
•
Drama Series:
24
•
Comedy Series:
The Office
•
Miniseries:
Elizabeth I
•
Made-for-TV Movie:
The Girl in the Cafe
•
Variety, Music or Comedy Series:
The Daily Show With Jon Stewart
•
Actor, Drama Series:
Kiefer Sutherland,
24
•
Actress, Drama Series:
Mariska Hargitay,
Law & Order: Special Victims Unit
•
Supporting Actor, Drama Series:
Alan Alda,
The West Wing
•
Supporting Actress, Drama Series:
Blythe Danner,
Huff
•
Actor, Comedy Series:
Tony Shalhoub,
Monk
•
Actress, Comedy Series:
Julia Louis-Dreyfus,
The New Adventures of Old Christine
•
Supporting Actor, Comedy Series:
Jeremy Piven,
Entourage
•
Supporting Actress, Comedy Series:
Megan Mullally,
Will & Grace
•
Actor, Miniseries or a Movie:
Andre Braugher,
Thief
•
Actress, Miniseries or a Movie:
Helen Mirren,
Elizabeth I
•
Supporting Actor, Miniseries or a Movie:
Jeremy Irons,
Elizabeth I
•
Supporting Actress, Miniseries or a Movie:
Kelly Macdonald,
The Girl in the Cafe