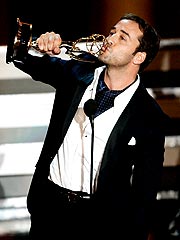 8:30 p.m.
Jeremy Piven and Megan Mullally were among the first winners at Sunday night's 58th annual Emmy Awards.
An effusive Piven took the Emmy in the comedy category for his supporting role as agent Ari Gold on HBO's
Entourage.
Earlier on the red carpet, the ascot-wearing actor announced his date for the evening: "I'm the only straight man here who's brought his mother two years in a row."
Mullally, picking up her second comedic supporting actress Emmy for her role as
Will & Grace'
s boozy Karen Walker, said, "Here come the waterworks – I never cried on national television. I think I like it." (She won her first Emmy in 2000, for the show's first season.)
Alan Alda won best dramatic supporting actor for his role as Arnold Vinick, nabbing the record-setting 26th Emmy for
The West Wing,
which closed up shop in May. (Alda was not present at the ceremony.) The White House drama has now surpassed the 25 Emmys won by
Hill Street Blues
and
L.A. Law.
The supporting actress in a drama winner was Blythe Danner, for Showtime's
Huff.
She said she'll miss the show, which has been cancelled.
The awards show opened with a satiric film in which host Conan O'Brien struggles to make his way to the Emmys after surviving a plane crash, landing on an island, and asking another castaway if he'd like to escape with him to the Emmys.
"It's not as if we were invited," replied the castaway – Jorge Garcia, who plays Hurley on last year's dramatic series winner,
Lost
(which was virtually shut out of the major categories this year).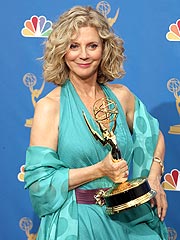 But those who
were
facing the heat of competition Sunday night complained of the very real heat outside Los Angeles's Shrine Auditorium, where the thermometer hit 100 degrees and the TV lights only added to the discomfort.
"It's hot as H," said nominee Jon Voight, up for his leading role in the TV movie
Pope John Paul II.
Asked by NBC's Maria Menounos if he were proud of daughter Angelina Jolie's many accomplishments, Voight, who is estranged from Jolie, said, "You bet, you bet. I send my love her way, to the kids, to she and Brad."
The Office
comedy series nominee Steve Carrell said he was sweating, but that it really didn't matter. "I've come here to lose," he said as he embraced his fellow arrival,
American Idol
judge Randy Jackson – who, despite the weather, sported a three-piece tux.