• "My girlfriend peed on it – apparently you're supposed to pee on it. It doesn't do sh– anything!"
–
Orlando Bloom,
on how Kate Bosworth tried to "help" his injured foot when he accidentally stepped on a sea urchin, to Jay Leno
• "I'm kind of jealous of the life I'm supposedly leading."
–
Zach Braff,
on tabloid reports that he's a partying ladies' man, to David Letterman
• "I liked the first picture better because there's more of me to love."
–
Katie Couric,
who appears 20 lbs. thinner in a new version of CBS network's promotional photo, thanks to digital airbrushing, to the New York
Daily News
• "look at the amount of white space/ between my arm and body/ barbara and elisabeth seem to vanish/ there in my underarm thinnest/ yes i say/ photoshop"
–
The View'
s new cohost
Rosie O'Donnell,
admitting that she also got digitally trimmed down like Couric in a publicity shot for the show, on her blog
• "I never dreamed I'd kiss James Bond. Now that I've done it, I say I hope I'm just the first of many."
– Actor
Toby Jones,
about sharing an intimate moment with new 007 Daniel Craig in their upcoming film
Infamous
• "He'll whip my butt. Let's be honest. First of all, he's 25 years younger than I am. Secondly, he probably went to all these good eastern schools. He probably went to the cotillion ball."
–
Jerry Springer,
on his
Dancing with the Stars
competitor Tucker Carlson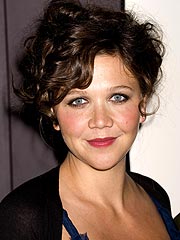 • "I've said before that Jeffrey and I are like oil and water, and oil doesn't get mad at water."
–
Project Runway
castoff
Angela Keslar,
on her relationship with Jeffrey Sebelia on the show, to EW.com
• "At first I felt awful and then I thought, I like that outfit, and that one too! It's hard to have to get dressed for 10 different things in two weeks. Give me a break!"
–
Maggie Gyllenhaal,
on how she feels about criticism she receives for the way she dresses, to
Time Out New York
• "Honestly, I think the awkwardness is more made up in the media than it is for she and I ... I think it will be fine tonight. I'm sure it will."
–
Nick Lachey,
on not being worried if he ran into ex Jessica Simpson, on the VMAs red carpet