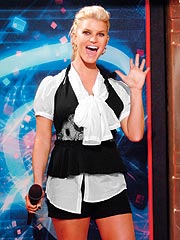 To hear him tell it, Mayer – who is currently touring with Sheryl Crow and who has a new album,
Continuum,
due Sept. 12 – wasn't exactly looking to date the popular girl. "I just don't go for celebrities," he told PEOPLE in July. "I've met people that are, like, supposed to be the sexiest woman on Earth and they actually suck the chemistry out of the room. The celebrity mentality is a whole different fate than my fate."
Still, he openly expressed his desire to be in a relationship. "Nobody really wants to be single," he said. "They always say if you don't look, you'll find it. Well, I have not been looking for a while and I haven't found it. I'll be willing to give up anything at any time in my life for the right thing."
So is Mayer Simpson's Mr. Right? Although the singer told
Glamour
magazine in its new issue, "I feel good being married to myself right now," sources close to her say she is savoring the new romance. "They've barbecued at her house," says a Simpson insider. "She's just started gardening, and he impressed her by knowing all the flowers she planted." Mayer is also "the antithesis of Nick," says the source. "He makes her feel special and beautiful and smart. Nick used to laugh when she said something that didn't sound smart."