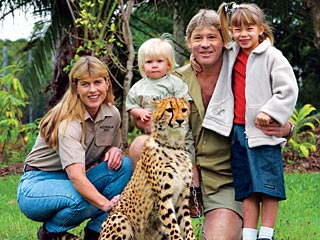 Sandra Priestley / Icon Images
The cameras kept rolling. Irwin had gotten himself out of many a predicament before, and there was hope he might escape again. Not this time. Just seconds after pulling the barb out of his heart himself, he was pulled back onboard
Croc One,
where the crew tried desperately to stop the bleeding. Long before a rescue helicopter could arrive, he died. "He pulled [the barb] out," said Stainton. "And the next minute he's gone. That was it."
Within hours of hearing the news, fans everywhere found ways to express their heartfelt grief. The Prime Minister of Australia offered to hold a state funeral for Irwin, and close friend Russell Crowe remembered him, saying, "He touched my heart. I believed in him. I loved him and I'll be there for his family." Even those who only knew Irwin from TV filed past his Queensland zoo on the Sunshine Coast and left flowers and notes of condolence.
It was a tragic, yet in some ways not wholly unexpected end for the adventurer. Irwin had been around animals from an early age. His father, Bob, 66, opened Australia Zoo in 1973, and his mother, Lyn, who died in a car accident in 2000, was a former nurse who cared for baby kangaroos and injured birds. Wrestling his first crocodile at 9 years old under his dad's supervision, Irwin has said that working with animals was "in my genetic makeup."