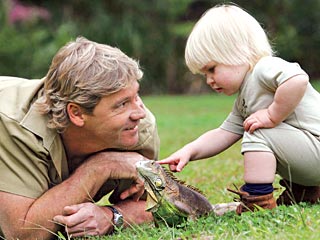 Sandra Priestley / Icon Images
As a result he never shied away from getting snout-to-snout with even the most unfriendly beasts. "He's like Tarzan meets Indiana Jones," his wife of 14 years, Terri, 42, told PEOPLE in 2000. On his two Animal Planet shows
Crocodile Hunter
and
Croc Files,
Irwin, whispering closely to the camera in his thick Australian accent about whatever fascinating animal he was with, would often get within striking distance of his deadly costars. In one episode he even allowed a snake to repeatedly bite him on his thumb in order to document the biological repercussions.
But all that derring-do wasn't just for ratings. Dubbing himself the "wildlife warrior," his ultimate goal wasn't to show off his bravado, he said, but to teach people to respect animals. "Our motto is conservation through exciting education – that's the game," Irwin told PEOPLE of his eco-awareness efforts.
His tactics certainly enthralled crowds. During one promotional appearance at Australia's Alice Springs Reptile Centre in 2003, owner Rex Neindorf recalls introducing Irwin to a two-yard-long lizard called a perentie goanna. "I told him explicitly not to handle him and to use a broom, but Steve completely ignored me," says Neindorf. "He ended up with about 10 incisor marks on his arm. There was blood everywhere. That was Steve the entertainer; he was a real showman."