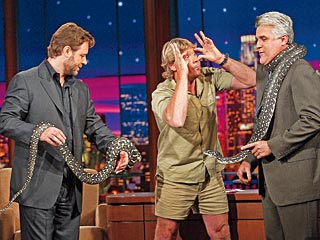 Of course that quality also brought Irwin much criticism, most notably in 2004, when he was filmed feeding a crocodile with one arm and holding 1-month-old son Bob in the other during a live show at his zoo. The footage was played over and over on newscasts, prompting Irwin to appear on the
Today
show, among other outlets, to defend his actions. "I would never, ever endanger my children," he said, maintaining that he had the situation under control the whole time. "Despite what people thought of him, he was very safety conscious," says friend Craig Adams-Maher, operations manager of Australian Reptile Park, who filmed a sea-snake segment with Irwin just a few days before his death. "His family was everything to him."
And he was everything to them. Terri, an American who saw Irwin in action in 1991 during a visit to his zoo, married him just nine months after meeting him. "They were two of a kind," says Terri's mother, Julia Raines, who lives in Eugene, Ore. "They thought alike and both loved animals – it was fate." As for their children Bindi Sue, 8, and Bob, 2, "they absolutely adored him; they thought he was the best."
Terri heard the news about Irwin's accident while on vacation with the kids in Tasmania and immediately flew home. "She has a long way to go as far as grieving is concerned; it's so raw," a family friend says of Terri, who remained in seclusion in the days following her husband's death. "But she's a tower of strength."