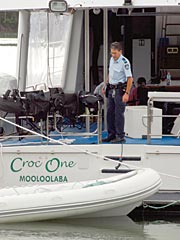 Irwin had a particularly special kinship with Bindi. In the middle of Irwin's
Today
interview, the little girl, then 5, hopped on Dad's knee, stroking his face and hugging him as he spoke. Bindi has even become a fearless animal lover herself, frequently appearing on Dad's show
Croc Files,
where she handles non-deadly snakes and lizards. And both she and Dad couldn't wait for her upcoming Discovery Kids show, which now may not ever air.
Whether or not the project will continue is yet to be determined, but regardless, Bindi will likely continue her father's conservation work. "We've got a fantastic chip off the block ready and raring to go," says environmental organization Planet Ark founder and pal Jon Dee, who met Irwin in 2002. "Hopefully she'll educate a whole new generation in the way her dad has."
While he's left behind a wildlife rescue mission at the Australia Zoo and a greater awareness of all creatures, "Steve's greatest contribution was to his family," says Mal Brough, a friend of Irwin's and a minister in the federal government. Despite his tragic death, "I have no doubt that they will never let his legacy die."
• By Jennifer Wulff. Michael Crooks and Shelley Gare in Beerwah, Queensland, and Louise Talbot, Diana Jenkins, Jenna Good and Erin Miller in Sydney and Stacey Wilson in Eugene