Harry Hamlin
is taking his stint on the third season of
Dancing with the Stars
so seriously that he's even taking his work home with him. "I'm going to tell you something no one knows," admits wife
Lisa Rinna.
"(Harry) bought a dance floor for our house. It's on our deck in the backyard. We practice at the same time because I'm still dancing, but we have not practiced together because I don't want to mess him up."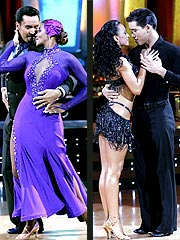 Hamlin says he didn't install it just because he's obsessed with his new gig on the hit show. "I got the dance floor because Lisa knows how to dance, and when this is done, I'm going to know how to dance. We're going to need a dance floor because we're going to cut a rug every day." And they're passing their love for shaking their groove thing onto their daughters, Delilah Belle, 8, and Amelia Gray, 5. "Forget about it! I've signed them up for hip-hop and ballet."
Meanwhile, fellow
Dancing
competitor
Vivica A. Fox
has found added benefits to being on
Dancing.
"Oh, yeah, honey, my waistline has snapped back," she tells us about trimming down while training for the show. "It's all getting back tight and right." And
Mario Lopez
has dropped 7 lbs. "My arms were huskier when we started and now they are getting skinny." But he's not as happy with his new physique as Fox. "I don't like being this scrawny – like a greyhound."
• By MONICA RIZZO and JENNY SUNDEL