Paris Hilton and the newly single Travis Barker have taken their PDA-fest to the next level.
First, the heiress and the former blink-182 drummer
snuggled
at New York City club Butter on Monday – and the following night, they were spotted making out at the NYC nightclub Marquee.
Hilton, Barker and entourage arrived at the hot spot around 12:30 a.m. – Hilton in a leopard-print halter dress, Barker in a baseball cap and red tee, witnesses tell PEOPLE.
At first, they sat together on a banquette, just talking, a source tells PEOPLE. But then the smooching started. "They were all over each other," another clubgoer says, adding that the pair had a camera and were snapping photos of each other.
Finally, the duo and their entourage headed out at around 1:45 a.m.
Barker is in the middle of a divorce from
Dancing with the Stars
contestant Shanna Moakler, with whom he has two kids. Responding to sightings of Barker and Hilton together, Moakler
told PEOPLE
on Tuesday, "When I first heard of the situation I felt betrayed, but … I've decided not to exacerbate the situation by commenting on each new aspect of Travis Barker's personal life."
Hilton's rep told PEOPLE, "Paris is single right now. You may in the future see her in the company of other men."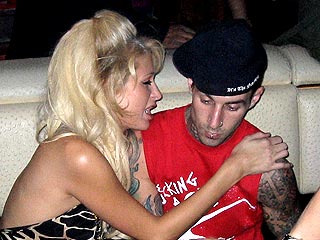 Jasmir Alisic and Mediha Dedic