Over Here, Mario!
Mario Lopez
was like a fly darting around after Tuesday night's show. While chatting with PEOPLE, he jetted over mid-sentence to talk to a friend. His small-but-mighty partner
Karina Smirnoff
took control and yanked him back to her side. "We are still talking here," she reminded him. A contrite Lopez apologized and flashed his dimples. "Oh, I'm so sorry. Where were we?"
Rumor has it that there's chemistry off the dance floor between Lopez (whose pals
George Lopez
and
José Canseco
cheered him on in the audience) and Smirnoff. So, what's the real deal? "Oh no, I'm single," he told PEOPLE. "Available. Not really looking. When it happens it happens."
All Aboard the Love Chain
During the commercial break that followed
Harry Hamlin'
s dance on Tuesday, he hit the craft-service table and loaded up on Reese's Pieces. Wife
Lisa Rinna
rushed over to him and gave him a big hug and whispered in his ear. Hamlin's overheard reply? "I told you we were going to be okay."
After the show, when asked if his wife was more nervous about him dancing than he was, he exclaimed, "
Yes
! I looked out at her just before our dance and I saw her holding hands with all of her friends. They were in a chain-link lock. I was like, 'Lisa, I'm okay. I'm okay! Calm down!' "
The Popular Girl
The dancer with the most fans in the audience, by far, was
Monique Coleman.
The
High School Musical
star signed autographs, posed for pictures with fans, and three of her
HSM
costars (
Ashley Tisdale, Corbin Bleu
and
Lucas Grabeel
) also did the same.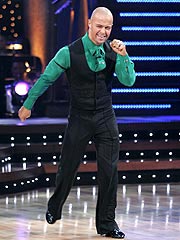 Seeing Double?
After the show, a bald audience member approached
Joey Lawrence
and asked to get his photo taken with him. "I feel like I'm looking in a mirror," the fan told Lawrence. The major difference: The admirer was about 30 lbs. overweight while Lawrence, who laughed and happily posed for the shot, is a workout buff.
Dressed to Impress
Of course,
Dancing with the Stars
isn't just about the fancy footwork – it's also about the fashion. Country singer
Sara Evans
wasn't the least bit self-conscious about the ultra-short red dress she wore for Tuesday's show. "I love to show my body because I'm a real woman," she told PEOPLE. Meanwhile,
Shanna Moakler
said she felt like Tina Turner in her fringed number. And
Vivica A. Fox
wanted to emblazon her and partner
Nick Kosovich'
s name "across my butt tonight because I did a cartwheel in our routine," she said. "But we'd have to put it upside down because I was doing the cartwheel. Baby, I'm shameless!"