•
Nicole Richie,
continuing her
25th birthday celebration
with a bash at Mr. Chow in Beverly Hills. She arrived with beau
Brody Jenner
and partied with 50 of her closest pals, including
Mischa Barton
and
Selma Blair.
When the birthday girl finally left with her posse at 10:30 p.m., dad Lionel Richie's "Running with the Night" was blasting.
•
Leonardo DiCaprio,
joining a high-wattage crowd
at a fashion show
, dinner and party at London's Earls Court hosted by designer
Giorgio Armani
to raise money for RED, the charity founded by
Bono
to help fight AIDS and HIV in Africa.
50 Cent
(in Armani) reveled for a good cause (and feasted on antipasto and risotto Milanese) alongside
Alicia Keys, Beyoncé
and
Ashley Judd.
What was Bono's goal for the night? "Have some fun, try not to fall over."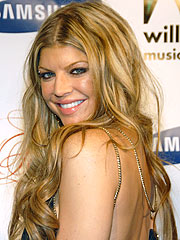 •
American Idol
star
Justin Guarini,
performing at a premiere party for the launch of the syndicated series
American Idol: Rewind
at L.A.'s Spider Club. Former
AI
contestants
Kimberly Caldwell, Mikalah Gordon, Vonzell Soloman, Anthony Federov, AJ Gil, RJ Helton, Jim Varraros
and
LaToya London
cheered him on.
•
Thomas Jane,
chomping on a cigar at a bash at The Lot club in West Hollywood to celebrate
South Park'
s 10th season. So, where was his wife of three months, Patricia Arquette? "She's working – she's out bringing in the money and I'm going partying."
•
Fergie,
seeming a bit dazed and confused at an album-release party at New York City club
Tenjune.
At the fete, fellow
Black Eyed Pea Willi.i.am
presented the singer with a diamond necklace and tiara. "You can't be a duchess without a proper crown," he told her, making reference to her chart-topping solo album's title,
The Dutchess.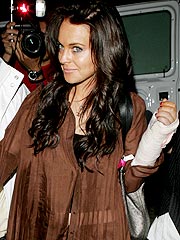 •
Lindsay Lohan
(who's split with beau Harry Morton after some back and forth), checking out Hollywood hot spot Shag with two female pals Monday night. "She was in a great mood," says a clubgoer. "Just having fun with her friends." Her next stop: L.A.'s Hyde Lounge, where the actress laughed and smoked cigarettes on the patio with her posse. "She was rocking out to (Peter Gabriel's) 'In Your Eyes' and (Don Henley's) 'Boys of Summer.'" Also there:
Zach Braff
and a friend, who flipped through deejay Samantha Ronson's records in her booth.
•
Tom Cruise
and
Katie Holmes,
feeding each other and kissing throughout a birthday dinner for Cruise's mom Mary Lee Mapother at the Wynn Hotel's SW Steakhouse in Las Vegas. When the group (which included Cruise's kids Isabella and Connor) left the restaurant, a fellow diner approached the couple and asked, "You guys here for your wedding?" Cruise and Holmes just laughed.
•
Kirsten Dunst
and
Jason Schwartzman,
partying at a bash hosted by Miss Sixty and
Nylon
magazine at Bar Marmont in West Hollywood. The
Marie-Antoinette
costars –
Nylon'
s October cover duo – spent most of the night chatting and having cocktails. Meanwhile, an almost unrecognizable
Jared Leto
walked around with a dark hoodie pulled over his head, and
Dave Navarro
chilled on the patio.
•
George Clooney,
watching a
Gnarls Barkley
outdoor concert from a private cabana at the Red Rock Casino in Las Vegas.
•
Ludacris,
hanging out in the VIP area of New York City club Element at the record release party for his new CD,
Release Therapy.
The rapper told us that with his new short haircut, he's been getting plenty of attention from the ladies. In fact, he's been tracking all the women checking him out on his blinged-out Axe tally counter (the body spray company is cosponsoring his tour). "I don't remember where I started. But I'll tell you this – I had to roll it back over to zero," he said.
•
Kyra Sedgwick
and
Kevin Bacon,
having dinner with son Travis, 17, at raw-foods restaurant Pure Food & Wine in New York City. The trio sat in the restaurant's courtyard and Sedgwick and owner Sarma Melngailis chatted in the kitchen during her tour of the restaurant. The family "was delightful," says a source.
•
Prince,
taking over a VIP skybox at Tao Nightclub at the Venetian in Las Vegas. At 2:30 a.m., he ordered a late-night veggie burger. Earlier in the night, he checked out the Pussycat Dolls show at PURE Nightclub at Caesars Palace.
•
Fall Out Boy
's
Pete Wentz,
glued to an Xbox at a party at L.A.'s Stone Rose Lounge celebrating the launch of EA's
The Godfather
video game.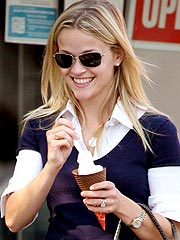 •
Sean "Diddy" Combs,
talking about having twins (with girlfriend
Kim Porter
) at a private breakfast at his Atlanta restaurant Justin's. "I am in an utter state of shock," he told us.
•
Reese Witherspoon
and
Cindy Crawford,
having a moms' night out with four female friends at Brentwood, Calif., eatery
Katsuya.
They feasted on sesame tuna cones and edamame, and drank watermelon mojitos.
• By MARY ACOYMO, CARRIE BORZILLO-VRENNA, ANNEMARIE CRUZ, KATHY EHRICH DOWD, MARK GRAY, LAURA HAHN, MAUREEN HARRINGTON, ISOUL HARRIS, MONIQUE JESSEN, MARISA LAUDADIO and NICHOLAS WHITE