Almost six months after being cancer-free,
Sheryl Crow
is "the happiest I've been in years." The singer, who's touring the U.S. with
John Mayer,
says that having breast cancer redefined her life. "I think it was a great release for me, just going through the experience. It's what you do with the experience that really defines who you become."
So, how is she different now? "I let go of a lot of the pressure I used to put on myself. I was very self-critical and I also was a person who would never say no to anything," she told us a recent Estée Lauder breast-cancer benefit in Beverly Hills. "I was conscious at all times of making sure everybody was happy before myself, and now I've just made it a practice to say 'no' once a day, just for the exercise of it!"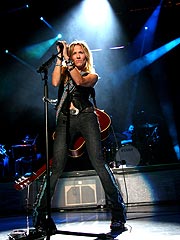 ordan Strauss / WireImage
Though Crow – who wears a custom-made gold bracelet with the words "Breathe" and "That which does not kill me makes me stronger" as well as her diagnosis date inscribed on it as a spiritual reminder – is already looking forward to celebrating her one-year anniversary. "It depends where I'm at in my life," she says. "I might take a trip."