• "Like I said earlier, I'm not ashamed or have any regrets – even about the mullet…But I do have regrets. I regret that Michelle Pfeiffer was married during
One Fine Day.
And (Julia Roberts) and Catherine (Zeta-Jones), and Matt Damon is now married."
–
George Clooney,
during his acceptance speech upon receiving the 21st Annual American Cinematheque Award
• "Before I met my husband, you are about the best man I thought I ever knew…You can do wacky things with shaving cream and Neosporin and I don't mean that in a sexy way."
–
Julia Roberts,
before presenting George Clooney with the American Cinematheque Award
• "As David's father I have no problem (with the adoption), so what is their concern? Are they jealous or what? What I want is good life, a good education for my child."
–
Yohane Banda,
father of the 15-month-old Malawian boy whom Madonna and Guy Ritchie are trying to adopt, to PEOPLE
• "I don't believe that Jews are responsible for all the wars in the world. I mean, that's an outrageous, drunken statement."
–
Mel Gibson,
to Diane Sawyer
• "Mel has a new movie out. It's about the end of the Mayan civilization. And guess whose fault that was?"
–
David Letterman
• "Some people think that I would be afraid of them, but I'm never ever afraid of an animal. I just get excited and some that are dangerous I just think, 'Oooh! What's going to happen?' and things like that."
– Steve Irwin's 8-year-old daughter
Bindi,
who's following in her late father's footsteps, to ABC's
Australian Story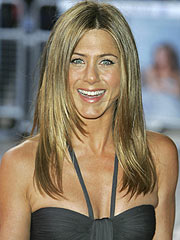 stefan reimschuessel / Retna Celebs / Retna
• "You know what it's called? It's called 10 lbs. Here is what it is. This is the funny thing. You're either like, 'Oh, look at the bump!' Or, 'You're pregnant'… When instead it's like, maybe a couple cheese plates too many."
–
Jennifer Aniston,
on rumors that she got breast implants, to Oprah Winfrey
• "I got lucky. I happen to fall into a very special category called, 'Guys who are friends of Will Ferrell or Steve Carell.'"
–
Paul Rudd,
on how he transformed his career from romantic leading man to sleazy characters in such films as
Anchorman
and
The 40 Year-Old Virgin,
to
Rolling Stone
• "It's mean. They make the loser sing."
– Comedian
Wanda Sykes,
on what she loves about
American Idol,
in her HBO stand-up comedy special
Sick & Tired