He's the Man
Now that
Emmitt Smith
is the
Dancing with the Stars
champ,
does the football star's wife Pat have any apprehensions that he'll have a big head? "Not at all," she told us. "He's going to be so easy to live with."
A New Role
After getting the boot in Week Two,
Shanna Moakler
doesn't stray far from the
DWTS
set. She just took on a new position – as a special correspondent for
Extra!
Since then, she's been a staple in the press room, and before Wednesday's show Moakler popped in to "say hello to my fellow journalists," adding, "I miss you guys so much," before heading to her seat in the audience with the other season three dancers.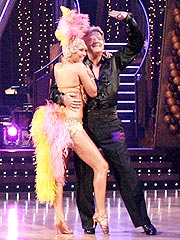 The Jealous Type
Jerry Springer
is territorial – at least on the dance floor. He has some issues with Season One's
Joey McIntyre
swooping in for a waltz with his professional dance partner,
Kym Johnson,
on the
DWTS
tour. "Joey, shmoey," Springer joked. "If I see him dance one slow dance with her..." But, as it turns out, Springer might not be too far away. "I think I will show up to some of the (tour) dates near Chicago (or) Ohio," he told us. "It will be fun."
Secret Union
In between all the dancing, some on
Dancing with the Stars
even find time for romance. On Wednesday's finale,
Harry Hamlin'
s dance partner,
Ashley Del Grosso,
told us she and fiancé Michael Costa Jr., a producer, married on Oct. 21 in Los Angeles. "We gave our families a week's notice," the 24-year-old Del Grosso said. "We met on the show on Season One."
TUESDAY'S SHOW
Dead Heat
Tuesday's
Dancing with the Stars
final competition was full-throttle excitement from start to its dead heat finish. For the second week in a row, the finalists – Mario Lopez and Emmitt Smith – received identical scores from the judges, leaving them deadlocked with 89 out of a possible 90 points. Their fate now, well, it remains in the hands of the millions of voting viewers.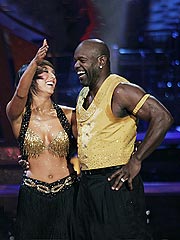 All eyes will be on Smith and Lopez when the winner is revealed. But some – judges included – will have a tough time accepting just one winner. "I wish we could have two winners this year," judge Carrie Ann Inaba told PEOPLE. "I cried
last week
when Joey (Lawrence) left. Forget tomorrow. It's going to be sad to see somebody not get that trophy after the way they worked tonight and the way they have the past 16 weeks."
Voters' Rights
They may not be old enough to elect the president, but two of Emmitt Smith's daughters exercised their
DWTS
-given right to vote – for their dad. After the show, Smith's two older daughters stood on the steps of the stage and voted on cell phones. Smith's wife, Pat, said she was frustrated trying to get through on her cell phone. "We're using all the phones, pulling out all the stops," she said.
Veteran Cheerleaders
Season Two
DWTS
alums – Stacy Keibler, Drew Lachey, George Hamilton and Lisa Rinna – came out to witness – and vicariously relive – the competition. "I was so excited to get here tonight," Keibler said of her first night back at the studio since last season's finale. "Just seeing Emmitt and Mario, I started … getting anxiety because it all started flooding back to when I was in their shoes. It's really great to be on the other side and enjoy it."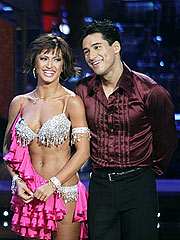 Sunny Disposition
If everyone looked a bit darker on tonight's show, it's because many got a fresh spray tan from the makeup department. "I got sprayed twice and it was way too dark," Inaba told PEOPLE. "I had to actually put on some makeup to make my skin look lighter."
Gun Slinger
Emmitt Smith has managed to stay pretty buttoned up all season. But Tuesday night he revealed everything he's been keeping up his sleeves. "All season long I danced with costumes with sleeves and so I hid a whole lot," Smith said. But Tuesday, Smith went sleeveless, exposing his NFL-toned biceps in his two costumes. "You save some of the best stuff for last," he explained. "If you're going to let loose, this is the time to do it."
Last week's Dancing with the Stars: What You Didn't See