Hair Removal
It was a well-planned stunt,
Billy Ray Cyrus
and
Karina Smirnoff
say. But the mullet wig Smirnoff sported didn't come off when, at the end of their cha-cha to Cyrus's song "I Want My Mullet Back," the country star was supposed to pull off the hairpiece. "I got my mullet back, it just took a couple extra yanks," Cyrus joked. "I'd say we rehearsed it about 354 times. But whoever did her hair tonight practically glued it to her head." Ever the trooper, Smirnoff was calm about the hair malfunction. "No blood, no bald spots," she said, adding, "I don't think I'll have a wig next week!"
No Mo' Doughboy
Former 'N Sync star
Joey Fatone
tells PEOPLE that he's dropped 20 lbs. since beginning rehearsals for
Dancing with the Stars.
He proudly sported a white vest and pants and patted his svelte tummy. "I have a little bit more to go," he said. "But this is good. Fat One no more." The singer, who's been on the Nutri-System diet plan for about a month, has been dropping the pounds thanks to dancing five hours a day, six days a week with professional partner
Kym Johnson.
Shoe-In
An airline (to remain nameless) lost
Paulina Porizkova
's luggage over the weekend – and her dance shoes were in the missing suitcase. Lucky for the supermodel that her shoe size is the same as her partner
Alec Mazo
's fiancée, pro dancer
Edyta Sliwinska.
"She "gave me these shoes (a pair of golden pumps) so I could dance tonight," Porizkova told us. Talk about friendly competition!
One-Two Punch
Laila Ali
knocked out the crowd with her dancing (and judge Bruno Tonioli called her "sexy"), but it's her boxer dad,
Muhammad Ali,
whom Laila hopes will have her back. "I know he's watching at home and he better be voting is what he better be doing," she told us.
Snack Attack
What do actor
John Ratzenberger
and his partner,
Edyta Sliwinska,
have in common? They're both of Polish heritage and share a love for kielbasa, the tasty Polish sausage they were hankering for after the show. "I've got a guy who is going to send me some," Ratzenberger said. "Ooooooooh, some good kielbasa and bread? That would be amazing," the freshly spray-tanned Sliwinska agreed.
Onesie for All
He was the first celebrity to perform on Monday night's show and
Beverly Hills 90210
star
Ian Ziering
jumped in with both feet – literally. "I'm wearing a onesie," he told us. "Shirts that snap in the crotch – I haven't stepped into my shirts since I was wearing a onesie as a kid. I have to say, it's not bad. It's staying tucked in. It's riding up a little bit on me, but it's all part of the dance."
Mom's Cheering Section
Talk-show host
Leeza Gibbons
was put at ease during her first performance show knowing that kids Lexi and Troy were in the audience. "It was a comfort for me to have them here tonight," Gibbons told us. "They were worried about me (before the show) and they wanted to make sure I was cool and they were telling me how great they think I am for doing this."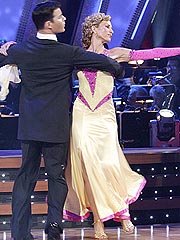 All the Right Moves
Despite making her dancing debut in front of millions,
Heather Mills
kept her cool. "I was fine. I was not at all nervous and then I got out on the floor and I saw my friends looking at me biting their nails and I thought, 'Oh my God! They're so nervous for me!' " Mills told us. And despite doing the fox trot with only one leg, Mills made the dance
look effortless.
"I forget she only has one leg," her pro partner
Jonathan Roberts
said. "Heather has such a good attitude. She works so hard and it's like there's nothing she can't overcome."