Flipping Out:
Going into Tuesday's results show,
Heather Mills
was "so nervous because I'm not American. I wasn't sure how the public would be but obviously they've been supportive, which we're so excited about." And America clearly applauded her for her tricky back flip with partner
Jonathan Roberts.
"Afterwards in bed, I was like, 'Ohmigod! I can't believe I did that!!' " she told us. "When I watched it back it was like, 'Who was that person?' It's like watching someone else!" And Roberts applauds Mills's gumption: "She's really keen to try anything." The activist has the bruises to prove it. "I've had blisters and bleeding in the beginning because there's a lot of piston action and a lot of twisting (in the leg socket)," she said. "But I've kind of covered them all up and at the moment I'm feeling fine."
Dionne, Meet Donny:
Dancing
guest vocalist
Dionne Warwick
took the stage for her first pre-recorded number, "I Say A Little Prayer," but stopped short as she sang the line "Before I put on my makeup..." because of a snafu. The legendary singer took the mistake in stride, telling the audience, "See mistakes are made!" And as she was prepping to tape her second number,
Donny Osmond
– who's hosting the new ABC show
The Great American Dream Vote
– popped up to take his front-row seat, but not before spinning Warwick around a few times on the dance floor to the delight of the crowd. The judges were impressed, too:
Bruno Tonioli
waved his paddle with a perfect "10" on it, yelling, "Go, Donny!!"
One Hot Mess:
Before heating up the ballroom with their sizzling mambo for the night's encore performance,
Laila Ali
and
Maksim Chmerkovskiy
had a few backstage fires to put out. "I had a little panic attack right before we went out," admitted Ali, who is heading to Chmerkovskiy's New York City hometown to train for next week's show. "I was like, 'I forgot the dance!' " Meanwhile, Chmerkovskiy had his own crisis to deal with. Right before each dance, the pro has a tradition of retying his shoes, but, he said, "My shoelace broke right before the dance!" The solution? Lacing up his shoe only halfway for the dance. "(Laila) looked down and said, 'Oh my God.' She forgot her dance and then saw my shoelace rips. It was a mess." Of course, once they hit the dance floor, the two were cool and collected.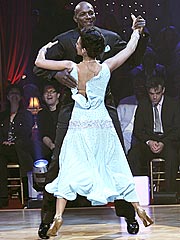 Judge This!
As comedian Corey Almeida worked the crowd with Akon's "Smack That" blaring in the studio, the judges made their own sassy entrances.
Len Goodman
escorted
Carrie Ann Inaba
to their seats with
Bruno Tonioli
following suit. The trio then got their groove on to the beat. Tonioli, however, got a little manic, pumping his fists and shaking his assets in the same way he delivers his criticism – exaggerated but all in good fun. Our score? SE-ven!
Clyde the Jive?
Next week
Clyde Drexler
puts his fancy footwork to the test with the jive. "Clyde gets to boogie!" says partner
Elena Grinenko.
But the basketball star is a little less enthused. "I'm just apprehensive," he admitted, "because we don't have a long time before we get our routine together and fine-tune it." You gotta have faith, Clyde!
Monday's What You Didn't See >