Star Dance:
Joey Fatone
's
Star Wars
-themed tango with
Kym Johnson
was well-received by the audience and the judges. (Their 24 points out of a possible 30 gave them a four-way tie for first place with
Ian Ziering
and
Cheryl Burke,
Heather Mills
and
Jonathan Roberts
and
Leeza Gibbons
and
Tony Dovolani.
) But Johnson wasn't as thrilled with the idea of a
Star Wars
theme. While Fatone says he's watched the movie so many times "I couldn't even tell you how many," Johnson has "never seen it. He sat me down and gave me an hour lesson and explained to me all about
Star Wars,
" Johnson told us while rolling her eyes. "This (gimmick), the costumes were all Joey's ideas and it worked out." Yet they stopped short of styling Johnson's hair in Princess Leia's famous buns. "We thought about the Princess Leia curls but, no, that was too much," Fatone said.
Name Calling:
Heather Mills
is getting used to being given nicknames by the judges. "(They) called me Rambo, Red-Hot Heather," she told us. And in honor of having a spring in her step with her impressive jive, Mills is giving herself another one: "Now you can call me Tigger," Mills said, giggling. "My daughter would love that. She's a big Winnie The Pooh fan." After some technical difficulties with her leg during rehearsals, the landmine activist got a redesigned prosthetic limb, which allowed her to do the fast-paced dance – after only nine hours to practice with it. "I just wanted to get over it and maybe scrape through. So to turn it into what felt good, it's unbelievable."
And They're Safe!
Sliding their way through their dances were
Apolo Ohno
and
Billy Ray Cyrus.
Both incorporated baseball-player slides between their respective partners' legs during their routines. "I was happy with my slide," the country star boasted after the show, though he says they didn't over-rehearse it because "it hurts too much." Cyrus wore a pad on his left knee to cushion the movie. It was a little bit of a childhood dream come true for the country singer. "When I was a boy, I wanted to be Johnny Bench, the catcher for the Cincinnati Reds," Cyrus told us.
A Losing Battle:
While most celebrities talk about how many pounds they've lost while training for
Dancing,
Laila Ali
confesses that she's
gained
five pounds "since the first show. I weigh myself every morning. I weigh 177 lbs. right now. I got down to 172 and then I got so happy like, 'Oh, I can eat!' " But the pro boxer isn't worried about it. "I know I can lose five, 10 more pounds and look ripped up, cut up. But I'm not going to put a dress on unless I feel comfortable so I'm going to start dieting this week."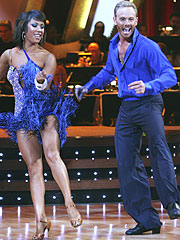 Share and Share Alike:
Sure, there's plenty of friendly competition on the dance floor, but there's also camaraderie. Talk-show host
Leeza Gibbons
told us that her partner
Tony Dovolani
"was backstage with
Apolo Ohno
encouraging him to work with (his)
Pulp Fiction
character for the jive and I thought it was really sweet.
Edyta (Sliwinska)
was counseling me on the veil and the look," she said. "We really do respect each other and when the dancers say something, we take it pretty seriously."
B-Day Boy:
There have been a flurry of birthdays for the
Dancing
celebrities. Last week,
Leeza Gibbons
celebrated her 50th and
Ian Ziering
kept his 43rd b-day party going (his actual birthday was on March 30) after Monday's show – with one exception. "No cake tonight," Ziering said. "It's not on the
Dancing
diet menu." Instead, the actor hit West Hollywood club Area with pals, where he was dragged onto the dance floor by a female friend.
•
Additional reporting by MARGI BLASH
Last Week's Dancing with the Stars: What You Didn't See >