Ohhhh, Dad!
So what does
Billy Ray Cyrus
's son Braison think about his father's new hobby? "It's embarrassing," the 12 year old told us. "Very." But there's an upshot to it all outside of just the green-room munchies. "I got to meet
Clyde Drexler
!" boasted Braison. "He was very nice. He signed my card and a basketball." Too bad Braison's usual one-on-one competitor has been too busy in the ballroom to meet on the court. "We played a lot of basketball before this. Now he seldom sees me because I'm always at practice," says Cyrus, who will next tackle the paso doble. "If they kicked me off the show tonight this boy wouldn't have cared because he would have gotten his daddy back. But if something happens to Clyde this boy would be in tears. He and I both! We love Clyde."
Standing By His Woman:
Though you wouldn't know it, pro dancer
Cheryl Burke
is "nervous every week," the two-time
Dancing
champ told us. "You just never know what's going to happen. "Look at Shandi and Paulina – they're great dancers and they're gone." Before Tuesday's results show (where Burke and partner
Ian Ziering
were safe), Burke found some comfort in the arms of her boyfriend,
actor Matthew Lawrence.
The dancer came into the ballroom looking for her man just minutes after Lawrence left his assigned seat to hit the bathroom. When the pair finally connected outside the door to the soundstage, Lawrence wrapped his arm around his lady as they both laughed and headed outside for some fresh air. Awww …
Encore, Encore:
Joey Fatone
and
Kym Johnson
were thrilled to reprise their
Star Wars
-inspired tango when they were selected to perform the encore. "It was fun to do it again without being judged," Johnson told us. "We actually did it better tonight." Added Fatone: "It was a little nerve-racking though because you know you did so well the first time, you don't want to screw up." Talk about nerve-racking: Turns out the Jedi master himself, director
George Lucas,
saw the duo's routine when he tuned in to Monday's show. So, what was his verdict? "I like (Fatone's) pick in costumes, at least his partner's pick," Lucas told PEOPLE at a press event in Long Beach, Calif., for the upcoming 2007 Toyota Pro/Celebrity Race. "But he cheated. He took his robe off and had a suit underneath. I mean, c'mon, he should have had a little Jedi outfit on."
As for the judges' consistent criticism about Fatone's protruding posterior, during next week's paso doble, "I'll just tuck it in," Fatone told us. But there's a lot less to worry about back there – Fatone has lost three more pounds and has slimmed down to 216 lbs.
Red Alert:
Pro dancer
Tony Dovolani
is used to being in the spotlight – just not under a red one, which indicates a
DWTS
couple is in danger of being eliminated. "Tony has never been in the red light before so this is my gift to you, Tony!" quipped partner Leeza Gibbons, who took command of the ballroom on Monday night with a tango that earned high scores from the judges – but still managed to land them in the bottom two. "That's the disappointing part of this," says Dovolani. "We were on such a high yesterday from doing such a great performance. I think people thought we were safe so they decided not to vote as much. Hopefully this wakes them up."
To help jolt viewers to dial in next week, Gibbons joked that instead of a temporary tattoo like she flashed this week, "We can just put the phone number in sequins on the dress!" One costume detail is for sure, said Dovolani: "We're never wearing red again."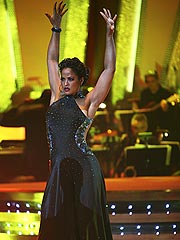 Second Time's a Charm:
It was a wardrobe malfunction moment when
Julianne Hough
's bracelet flew off mid-performance during her dance with
Tony Dovolani
to guest performer
Josh Groban
's performance of "So She Dances." No worries: During the second go-around, all Hough's jewelry stayed intact as the pair breezed through the
pas de deux,
which they punctuated by exchanging hugs with Groban after the cameras stopped rolling.
Dress to Impress:
Talk about not wasting any time! "I am going upstairs right now to design my next outfit" for the paso doble,
Laila Ali
told us right after Tuesday night's show. "I always design my outfit. I thought I was going to get the waltz so I designed a dress for that. Then I found out I have to go do another one!" One thing she can't change? The music, which is given to the couple at the end of each results show along with their assigned dance. "Do you think we'd be picking 70s music?!" said Ali's partner,
Maksim Chmerkovskiy.
But "that's the fun part of the show. We have no idea what's coming."
•
Additional reporting by REAGAN ALEXANDER
Monday's Dancing with the Stars: What You Didn't See >