A Champ in Training:
Hard-to-please
Maksim Chmerkovskiy
couldn't stop raving about how much his partner
Laila Ali
has improved. Their cha-cha was a crowd pleaser and Chmerkovskiy told us, "It was our easiest dance yet. I feel like she knows what she's doing now and she knows what it takes. It takes so much pressure off of me." And though the pro boxer was pleased to hear her partner's praise, she's still looking to completely unlock the key to her inner dancer. "It's halfway open. We have a lot more to do. There's gotta be more – we didn't get three 10s yet."
9021-Oh My!
Ian Ziering
's former
Beverly Hills 90210
costar
Gabrielle Carteris,
who was in the house on Monday's show, can't get over how her pal has transformed his body. "He's always been in great shape because he's worked out, but he looks like a dancer. He's slimmer and more muscular. He looks hot. His butt looks hot!," she gushed to us. "I kept saying, 'Ian, turn around.' "
Girl Power:
Leeza Gibbons
returned to the
Dancing
ballroom for the first time since
being voted off
and she arrived early to visit with her former castmates before taking a seat next to
Apolo Ohno
's father, Yuki. "I'm such a fan of Billy Ray's," Gibbons told us. "But I'm rooting for the ladies. There's only two left and we gotta keep them in."
He's in Sync:
JC Chasez
was at Monday's show to root for fellow 'N Sync-er
Joey Fatone
and he's not surprised with how well he's doing in the competition. "Joey can remember dance steps from when 'N Sync was on tour 10 years ago," Chasez told us. "What I am surprised is how much fun he is having. He isn't just coming out here and doing a dance, he is having the time of his life."
Bruno's the Bomb:
Dancing
judge
Bruno Tonioli
is a fan favorite and received a shout-out during a commercial break from a female audience member who yelled, "Bruno is hot!" Pleased with the comment, Tonioli pulled out his number 10 paddle and waved at the young woman. House comedian Cory Almeida shook his head and joked, "We're going to have to stop serving alcohol in the balcony."
Everybody Knows Your Name:
Actor
George Wendt
was on hand to support friend and former
Cheers
costar
John Ratzenberger.
And when he entered the stage to take his seat, fans in the balcony yelled, "Norm!!" Wendt, probably used to this greeting wherever he goes, acknowledged with a wave and a smile.
Swing Shift:
After the high-energy group swing dance, several of the dancers took a moment to thank their friends and families for coming. And
Billy Ray Cyrus
couldn't help but get swept up in all the adulation: The country star walked into the audience to shake hands with several rows of people before being pulled back onto the floor for the show's closing segment.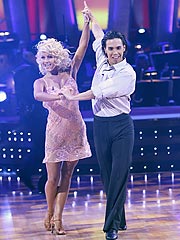 And though the number looked great on TV, "The hardest part was learning the dance without losing any blood,"
Ian Ziering
said. "Cheryl stepped on my feet once, she hit me in the groin, I got punched in the jaw. The learning curve was very bumpy on that dance. But it was fun being with everybody out there!"
The Kindest Cut:
Apolo Ohno
has been training for his day job – speed skating – while working on
DWTS,
which leaves very little time for much else – including getting a haircut. Good thing Ohno's father, Yuki, was in town on Monday to give his son a trim. "He gave me a haircut today before the show," Ohno said of his shorter – but still shaggy – locks. And the elder Ohno is plenty proud of his son. "He was smiling so much. He was cheesing from the time he saw the pre-judge rehearsal this morning. When my dad is here I try extra hard." So, what did Dad think of his son's ballroom maneuvers? "I was so entertained tonight. I hope he teaches me so I can go on a cruise ship," Yuki said.
Last Week's Dancing: What You Didn't See >