Occupational Hazard:
Cheryl Burke
gave a piece of herself to the ballroom when she slid across the floor to Meat Loaf's "Bat Out of Hell." "The skirt was really short and it rode up," says Burke, whose mom, Sherri, was in the audience. "I ended up leaving part of my bum out there." She got patched up quickly with ointment and what looked like duct tape, then returned to the show without complaint. "That has never happened to me before," she says. "It hurt."
Most Improved:
"I like that we're learning two dances at a time now,"
Ian Ziering
says. "With all the practice time, I don't have time to obsess." The only time he's not learning a new dance or icing his feet is Monday night. "I have dinner with friends and then meet up with the other dancers. Monday is our weekend night." This past one they spent celebrating Cheryl Burke's 23rd birthday. "We went to Parc [nightclub]," says Ziering. "The dancers taught me how to shimmy. It was a matter of me relaxing and just going with it." And his celebratory cocktail? Water. (He's in training!)
Par for the Course:
What's next for John Ratzenberger after
his final bunny hop
? With his dismissal from the show, it's time for tee! He'll be emceeing the inaugural Iacocca Celebrity Golf Tournament May 2-3 in Las Vegas. Still, he says of his seven weeks of nonstop training: "I loved learning to dance and getting to know these people ... The only dancing I've done in the past is at proms and weddings."
They're with the (Boy) Band:
Seated at a front table was a gaggle of glamorous blondes who only had eyes for
Joey Fatone
– thanks to his wife, Kelly. She brought her friends out to show support for her
Dancing
man, and the ex 'N Sync-er returned the favor. He brought the six women bottles of water during a break and then hurried backstage.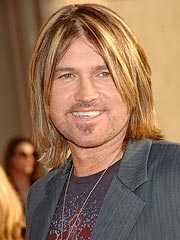 Stephen Shugerman / Getty
In His Own Shoes:
Billy Ray Cyrus
has finally embraced his inner dancing diva – when the cameras are off and the rest of the cast is backstage, he's walking into the bleachers to sign autographs, pose for pictures and shake hands. It's a big change for a guy who was too bashful to go to dances in high school. What gives? "I overheard [my partner]
Karina
telling my agent that I wasn't comfortable in my own skin," he says. "I had to think about that. She was right. I wasn't being myself. As soon as I started acting the way I do when I'm touring I felt it." And how times have changed: "I spent my prom evening playing baseball because I didn't want to dance in public."
Monday's Dancing: What You Didn't See >