Pregnancy Becomes Her
Host
Samantha Harris
was looking incredible in an A.B.S. by Allen Schwartz short gray silk bubble dress with sparkly, strappy stilettos by Stuart Weitzman. "I haven't worn any maternity dresses yet," says Harris,
who announced her pregnancy in April
. "So far they're too big. And so far the high heels are comfortable, but I think as I get further along the dresses will get longer and the heels shorter." Harris gets a lot of email asking her about the clothes and jewelry she wears on the show. "I'm like a princess. I get to wear all this incredible stuff on
Dancing.
I had over a million dollars in jewelry on last week."
Apolo's New Career?
"I really love the performing," says Olympian
Apolo Anton Ohno,
who with partner Julianne Hough scored a perfect 30 on Monday and then repeated their virtuoso paso doble Tuesday night to a standing ovation. "I like selling the role and showing the audience the story. I love Monday and Tuesday. The rest of the week is frustrating and hard while I'm learning the new dances." So, can he be a performer and a jock? "I'm not ruling anything out. We'll see. I'm just beginning to enjoy all of this."
Rumor Check
As for Hough, has she broken up with her fiancé, former ballroom dancer Zach Wilson? "No, we just postponed [the wedding]. We want some time and I'm so busy with the show. It's seven days a week." The 18-year-old was to marry Wilson, 24, on Aug. 8 in a Mormon ceremony in Utah.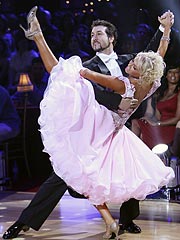 A Kick in the Butt
As one of the two lowest rated teams this time around,
Joey Fatone
and partner
Kym Johnson
are dancing by a sequined thread. "In a way this is a good thing," says Fatone. "It gives us a good kick in the butt. We have a lot of work to do." What was he planning to do after Tuesday's show? Maybe a stiff drink and then back to the studio. And Kym? "Back to the studio for sure. We really have to wow them next time."
Bye, Bye Billy
In the huddle after the show, nearly everyone was crying except the ousted
Billy Ray Cyrus,
who was grinning and slapping backs. He had to get back to work on
Hannah Montana
in the morning. But
Laila Ali
was tearing up and wiping her eyes. "Yeah this one is hard for me. I like Billy Ray and I'll miss him," says the boxer, whose father Muhammad Ali was in the audience on Monday. Still, never assume the champ has gone soft: "I'm not letting down my game. I want to win this."
Monday's Dancing: What You Didn't See >