Ian Ziering has left the ballroom.
Despite his efforts to release his inner entertainer – with an Elvis wig to boot! – the former
Beverly Hills, 90210
star was voted off the show Tuesday night, leaving Laila Ali, Joey Fatone and Apolo Anton Ohno to tango for the trophy on next week's finale.
Though Ziering, 43, tells PEOPLE, "I always hoped to win this competition," he's the first to admit that even making it this far was "surprising." "It's not natural for me to do ballroom dancing," he says. "I don't have any experience or reference points."
But the man does have determination. "He's a fast learner. He improved so much every single day," says partner Cheryl Burke, who calls his semifinals finish "well-deserved. He worked his butt off."
Judges took note. "Technically, I always thought you were the soundest of all the celebrity dancers," judge Len Goodman told Ziering on Monday, when he and Burke performed the tango and the jive. "But you've never really come out and sold it."
With the exception of his Elvis-inspired routine on Monday – "Hallelujah! Who would've thought a wig would make you have your breakthrough!" exclaimed judge Carrie Ann Inaba – Ziering often drew criticism for being too rigid on the dance floor. Judge Bruno Tonioli even dubbed him "McStiffy."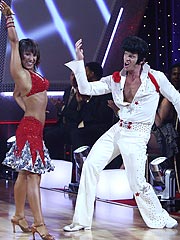 "It took a bit of build-up to get to the point where I could start being entertaining," Ziering says. "If we had a few more shows to work it out, then I think we could have won."
Instead of the mirror-ball trophy, though, Ziering will have to settle for taking home his favorite new move. "It's the shimmy," he says. "Cheryl convinced me to do the shimmy and I can't stop shimmying."