Family Hair-loom
Sure he didn't make it to the finals, but
Ian Ziering
's nephews Jon, 17, and Adam, 14, couldn't help but show their familial pride – on their heads. When Uncle Ian came out to the ballroom, the two teens donned black Elvis wigs just like the one Ziering wore for his jive with partner
Cheryl Burke
in the semifinals. "We wanted to show our support," says Jon, who picked up the headgear at an Los Angeles costume store. "He impressed us!" So are they signing up for dance lessons with their uncle? "Of course I am!" says Adam.
Daddy's Princess
Briahna Fatone is too young to be on
Dancing
, but that doesn't mean she can't look like a dancer. The 6-year-old daughter of season four runner-up
Joey Fatone
wore a replica Princess Leia dress just like the one Dad's dance partner, Kym Johnson, wore. The tiny frock was made by the show's costume team. Young Briahna took dad's loss hard as she cried in mom Kelly's arms at the end of the show.
Professor Mills?
She has hit the dance floor. Now she'll hit the books.
Heather Mills
tells PEOPLE that when she returns to England she'll be working on a degree in biology and chemistry so that she can become a nutritionist. "I want to have that degree so that I can argue with scientists about meat and milk and global warming," Mills, 39, says. "Even though I know about all of these things, if I'm not a full-fledged scientist nobody will want to listen to me."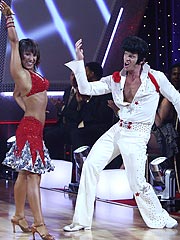 Instant Makeover
She is used to creating beautiful living spaces for families across the country, but before Tuesday night's show
Extreme Makeover: Home Edition
star Paige Hemmis had some improvement tips for pro dancer
Tony Dovolani.
"Hey, Tony, you missed a button. Or two. Or three," Hemmis joked, pointing to Dovolani's exposed chest.
Priceless Gift
Apolo Ohno
wasn't the only person in the ballroom celebrating a birthday. Eight-year-old Samantha "Sammy" Rotman rang her special day in grand fashion thanks to season four contestant Heather Mills. Rotman, who suffers from cancer and had to have her left leg amputated above the knee, attended the show with her mom Shari and sister Rebecca after receiving an invitation from Mills. The young girl's hometown of Bowe, N.H., raised money for her and her family to make the trip to Los Angeles. "Since becoming a mother myself I can't even imagine as a parent finding out your child has cancer," says Mills. "She's working hard to adjust to not having a limb. Her family is incredible. They are an inspiration to me."