•
Kirsten Dunst
and
Orlando Bloom,
drinking vodka cocktails with friends at L.A. hot spot Hyde Lounge. "They were having a really good time," says an onlooker "There wasn't any romance between the pair, but they did laugh a lot." On another night at Hyde,
Lindsay Lohan
and
Paris Hilton
arrived together "holding hands and giggling." The duo chatted about the new
Borat movie
and danced to Ace of Base's "The Sign."
•
Leonardo DiCaprio,
holding up his phone to get reception inside New York City club Butter. The actor – casual in a newsboy cap and Lacoste pullover – spent most of his time smoking, sipping on a drink and chatting with his
Basketball Diaries
costar
Michael Rappaport.
Also making the scene:
Jamie-Lynn Sigler,
who chilled in a banquette with boyfriend (and club owner)
Scott Sartiano, Tyson Beckford
and
Cuba Gooding Jr.,
who danced with a woman to Beyoncé's "Deja Vu."
•
Eva Mendes,
chatting with Hollywood über producers Brad Grey and Bernie Brillstein at a fete for
President Bill Clinton
at New York City's Gramercy Park Hotel. The following night at the hotel,
Courtney Love
and
Lucy Liu
drank mojitos at a post-concert bash for the Rolling Stones.
•
Carmen Electra,
asking for a peek at the pool at New York City's Sky Studios because she remembered seeing it on
Sex and the City.
The actress was there for a party hosted by cable channel IN HD Mojo to celebrate their new men's programming block. Electra feasted on sushi from Megu and exchanged hellos with
Christian Slater.
•
John Legend,
singing an a cappella version of his song "Save Room" at the record release party for his sophomore album
Once Again
at New York City club PM. The R&B star partied alongside his brothers John and Vaughn and took pictures and gave hugs to fans. When
Jay-Z'
s "Encore" started playing, an excited Legend hopped on top of the banquette and started chanting "Hova, Hova!" along with the track. The club was so filled to capacity that
Petra Nemcova
and
Russell Simmons
patiently waited outside to get in.
More on Your Favorite Stars
•
Molly Sims,
lunching on butternut squash soup at BG, the restaurant at Bergdorf Goodman's in New York City.
•
Axl Rose,
partying at South Beach club Suite with his girlfriend and members of
Guns N' Roses.
He drank Krug champagne and Patrón shots until 5 a.m. Days before, he rode the mechanical bull at Snatch, just downstairs from Suite.
•
Maggie Grace
and
Amy Brenneman,
getting their hair dyed at the Jim Wayne Salon in Beverly Hills for their daughter-mother roles in the movie
The Jane Austen Book Club.
Grace, who went from blonde to brunette, even asked her onscreen mom which shade to choose. A maternal Brenneman (who added gray to her locks) told her, "No, not that color, try this one" and "I would never let you go out of the house looking like that."
•
Chris Noth,
dressed in doctor's scrubs for a Halloween party at Miami's Casa Casuarina.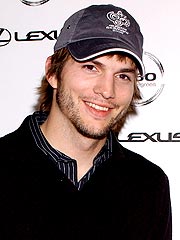 Scott Downie / Celebrity photo
•
Ashton Kutcher
and
Jeremy Piven,
palling around at a Beverly Hills fete for the new 2007 Lexus 460 and 460 L. Piven told us that during his hiatus from
Entourage,
he's "going inward." "I want to see what happens if I don't work. It's like an experiment," he said. "I love to travel a little bit. I want to read, I want to write, I want to chill. Kind of replenish my spirit a little bit, see what that's like. Come back strong, bigger, badder and better than before."
• MARK DAGOSTINO, MAUREEN HARRINGTON, TIFFANY MCGEE, LESLEY MESSER, JON WARECH and NICHOLAS WHITE