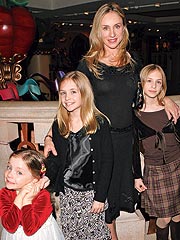 And not everyone supports his efforts: In response to Fox's
ad
for Missouri Senate challenger Claire McCaskill, Rush Limbaugh said Fox might have been exaggerating his symptoms, and that he'd never shown such obvious tremors while guest-starring on
Boston Legal.
But
Boston Legal
executive producer Bill D'Elia tells PEOPLE, "Michael has good days and bad, but the debilitating effects of the disease are obvious and ever-present. I've seen Michael during the filming appear just as he did in the commercial. We worked with him and around him to create the scenes we needed."
But Fox and his family do their best to live a normal life, which means "going out to dinner and to movies and traveling and going on vacations," the actor says. "This time of year what we do is supervise homework and get kids to the bus, music lessons, soccer practice and ballet. Just all the regular stuff.
"There's nothing like supervising four kids – one in preschool, two in middle school and one in high school. Between talking about colleges and trying to pick a kindergarten, it's a pretty busy life. It takes your mind off just about everything."
For Tyler Mills, 19, who, confined to a wheelchair with cerebral palsy, showed up to hear Fox speak in Des Moines, Iowa, the actor – and his message – are inspiring: "We need those kinds of advocates, someone to put a face to this issue. I've met Michael. He took the time to talk to me for a half-hour. It was really special."
It's that kind of response, says Fox, that makes all the effort worthwhile. "For a lot of people, (getting Parkinson's) is like being hit by a truck. But in a way it's also gift – one that keeps on taking, but still a gift. To be able to be of service, to help people, that's the greatest privilege I could have."