They're expecting
twin girls
in December, but Sean "Diddy" Combs and girlfriend Kim Porter won't get married anytime soon, the music mogul says.
"I know she deserves to get married," Diddy, 37, tells
Essence
magazine in its December issue, "but I'm just not ready."
He explains, "It's not a reflection on how much I love Kim. It's that I'm just learning how to be a good boyfriend. When I'm finished with this step, I'll move on to the next."
Diddy broke the news of Porter's
pregnancy
to PEOPLE exclusively in August.
He tells
Essence
he was surprised when former model Porter, 36, told him this summer that she was expecting, and when he learned they'd be having twins, he thought, "Someone must have been counting wrong."
Not that he wasn't thrilled. "I was ecstatic," says the dad of sons Justin, 12, with ex-girlfriend Misa Hylton-Brim, and Christian, 8, with Porter. "I've wanted girls for a long time. I just picture the babies falling asleep on top of me."
When he and Porter first met in the nineties, "She kind of made me nervous," Combs says. "She wasn't like a New York girl. She was Bohemian, mixed with Georgia-peach hospitality. I got the idea she'd like doing stuff like walking barefoot in the grass. I didn't think I could get her to like me."
He was also intimidated by her reserve. "She was smooth, you know, like ice. She's cool and collected and thinks before she speaks. You meet a lot of young ladies, and they just don't do that. Kim was never pressed; she was always in control."
They began dating, but split in 1999 and then reconciled in 2003. In the interim, Combs dated Jennifer Lopez for two years. As Porter remembers of that period, "Everywhere I went, people were asking, 'Are you okay?' I just hated that."
But she says of Diddy's connection to Lopez, "That relationship wasn't real. The world just saw the bright lights and the camera. But I knew what was really going on. He was still in love with me."
She adds, "People just believed everything they saw in print, and they were talking to me like I was really crushed. But I had just had a baby. I couldn't be somewhere in a corner heartbroken. I have kids. I'm a grown woman."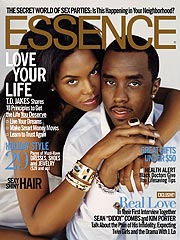 The couple are even stronger now, Diddy says: "She taught me well. When you're in a relationship, there's a lot of give-and-take. Before I was just selfish."
Adds Porter, "He could be a little more attentive to his family, but I understand who he is and what that requires of him. He's in a business where he wants to be the best, and he wants to make sure his family has the best. It takes a lot of his person to do that. You know, there's only so much time in the day. But as long as he makes us feel like we're a family, I'm fine."
And, she says, "There'll be one day when he won't be working so hard, (and) then we have a lifetime. … I'm not a needy person. If I were, I'd probably be somewhere pulling out my hair right now."