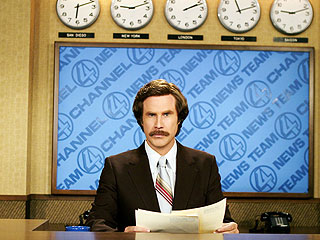 I'm a pretty shy person until you get to know me, and I wish I was more outgoing like you. Do you have any advice for people on how to let go of their inhibitions?
–
Jenna Krimbill, Tulsa, Okla.
Wow, I can really relate. I always just forced myself to do crazy things in public. In college I would push an overhead projector across campus with my pants just low enough to show my butt. Then my friend would incite the crowd to be like, "Look at that idiot!" That's how I got over being shy.
What is the last album you purchased?
–
Sara Jane McKinney, Salt Lake City, Utah
The Dixie Chicks (
Taking the Long Way
). I got it more out of interest in the fact that this was their first album since they got all that criticism, (but) then I started listening to the record and learned that the Dixie Chicks are actually really good. They are great musicians and singers. I was impressed. That, and Kylie Minogue.
Do you have any regrets leaving Saturday Night Live?
–
Tiffany Stuart, Safety Harbor, Fla.
I was there for seven years and it was just the right amount of time to feel like I had experienced almost everything I could have experienced. You really have to be there, if you are lucky enough, a good five seasons or so before people even know who you are. But once I left I felt satiated.
Of all of the roles that you have done, which are your favorites?
–
Sarah Patterson, Okemos, Mich.
I would have to make two choices. The first would be Ron Burgundy, only because it was such a battle to get
Anchorman
made. It is really satisfying to take it from getting 10 rejections in one day to now being a thing for people to quote. I remember watching Katie Couric's first night on the
CBS Evening News
and she played a clip of
Anchorman.
And then I would have to say Harold Crick in
Stranger Than Fiction.
It is a big deal for me to be in the caliber of film that this one is. Also I normally have to deal with a crazy wig or something outlandish, so it was nice to play just a normal guy.
Why do you like to run around in your underwear in your movies?
–
Emily Bultman, Milwaukee, Wis.
I am not an exhibitionist by any means, but it really seems to bug people. So for that reason alone I am going to keep doing it.
Is it hard being so sexy?
–
Morgan Casarez, San Francisco, Calif.
It is just what it is, you know, like the air we breathe. Why does the sun rise every morning? It is just a truth.
Do you have $20 I could borrow?
–
James B., Porterville, Calif.
Yes, I do. Oh, but now all these people are going to be like, "It's me. I'm James B. from Porterville." So I will be checking IDs.
PEOPLE's next chance to Go Ahead and Ask:
Taylor Hicks and Katharine McPhee. Submit your questions
here
!