As the hero of CBS's apocalyptic drama
Jericho,
Skeet Ulrich is trying to save the world from destruction. In his own life, circumstances aren't nearly as dire. The former
Scream
star is enjoying another round of fame with his show (whose fall-season finale is on Wednesday) and life as a dad to his 5-year-old twins, Naiia and Jakob (mom is his actress ex-wife Georgina Cates). PEOPLE.com readers had plenty of burning questions for Ulrich, 36 (who was born Bryan Trout), and he gamely responded – though, be prepared, he wasn't always totally serious.
With all the time you spend on the Jericho set preparing for your role, what do you do to make your time with your kids extra-special?
– Kay Staudt, Akron, Ohio
We do a wide variety of things from little trips and soccer games and dance lessons to jumping motorcycles off of buildings!
Do you like making movies better or being on a television show?
– Kelly Rubino, New York City
I like each process. TV is a lot more exhausting because of the workload and the speed at which we shoot, but it is exhilarating in its own right. Movies are typically much more involved and therefore a bit more organic.
I've seen many pictures of you with your tattoos. Could you please tell me what kind of tattoos you've got and what they mean?
– Joyce van Der Plaat, The Netherlands
All my tattoos are names.
In the majority of your roles you are very compassionate toward animals. Do you actually own any animals of your own, and if so, what kind?
– Jaime Wilson, Alvin, Texas
I have had as many as 14 dogs at one time.
What is your idea of fun or relaxation on your time off?
– Lorrie Ramos, Covina, Calif.
I love to play golf and build furniture and as of late I have been dabbling in being a slumlord.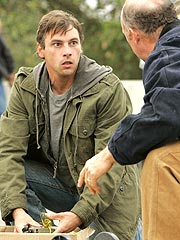 You once lived on a farm in Virginia. Do you ever plan to buy another farm someday? (And no jokes about how everyone is going to buy THE farm someday.) Also, do you watch any TV? If so, what do you watch?
– Kiki Kowai, Toronto, Ontario
I definitely will buy another farm in my lifetime. I watch very little TV –
SpongeBob SquarePants,
mostly!
Would you ever consider dating someone who is not part of the Hollywood hoopla, like a country girl who would be interested in YOU as a person, not as an actor?
– Vicky Hughes, Fairfax, Vt.
I would prefer to date someone not involved in this business, but only if they call me Jake Green (his character's name on
Jericho
)!
I've always thought you were a fabulous actor – I've seen all your movies and many of your TV appearances. Clearly, you have been well missed by fans such as myself in recent years. What are your plans for the near future?
– Caterina Chiarandini, Toronto
Thank you for your support and kind words. Who knows what the future holds ...
To catch up on all the episodes of
Jericho
for free, go to CBS.com.Next up: Ask Ben Stiller a question! Click here to submit yours.